After a 25 hour bus journey from Iguazu (I'm really not exaggerating!), what did I want most in the world when I arrived in Rio? How about…
– an amazing apartment overlooking the beach, complete with its own hammock
– a hot shower in my own bathroom with fluffy white towels
– a big cuddle from one of my bestest friends who was waiting for us
– a very large G&T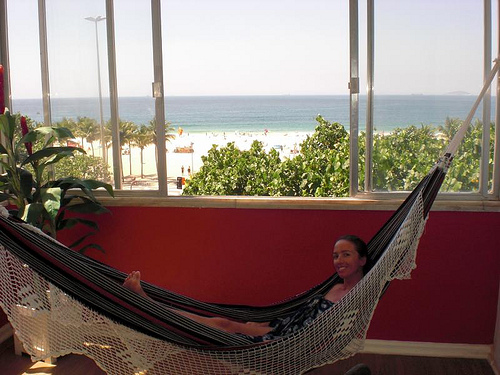 Yep, that was pretty much the perfect start to my 30th birthday week in Rio. We quickly nick-named David "Diego" and he and I put in some long hours, sitting in the blazing sunshine, sipping fresh coconut water, working on our tans, while ogling the cute Brazilian boys in their tiny pants. It's a tough job, but somebody has to do it, right..? Our friendly local beach attendant, "JC", furnished us with chairs and umbrellas and made sure we were never short of a coconut (he pronounced it coconoot) or an ice-cold beer.
Adding to the excitement of the eye-candy, were the waves, or more accurately, baby tsunamis. The waves on Leme beach are hugely powerful, insanely high and break very close to the sand. This meant that getting into the water was a challenge, especially in a bikini as skimpy as mine. I almost lost my bottoms completely on three separate occasions – they were around my knees and I was clinging on to them in a desperate bid to stop them being swept out to sea! Aside from this lack of dignity, there was an element of real danger. Even strapping lads like The Gool were thrown completely off their feet and sent tumbling, head-in-the-sand underwater, with Diego bruising his ribs and surfacing at one point to find a small local boy clinging to his leg like a limpet.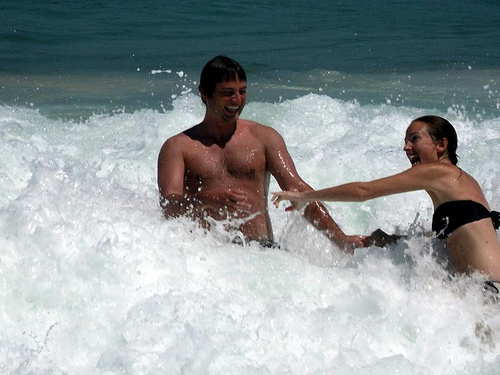 After a full day on the beach we hit a samba club, with a Barry White look-a-like singing non-stop and a very crowded dance floor. This is where The Gool fell in love with caipirinhas.
On Thursday we decided that we really ought to see more of Rio than just the beach, so in the morning we took a favela tour. These are the most dangerous parts of Rio, the slum areas which were, until recently, completely controlled by drug-dealers (some of them still are). It's not recommended that you enter a favela without a local guide, so we signed up with a company that gives back to the community by funding schools and other local projects with the tour profits. It was a real experience. After watching "City of God", I was expecting the favelas to be dirty, scary places with guns everywhere and little amenities, so I was surprised to find the first that we visited, quite peaceful and rather domestic, with a church, paved streets, running water and electricity (albeit rather higgledy piggledy wiring), the second was a little more hectic, but neither threatening nor intimidating and actually much nicer than a lot of the places we stayed in Bolivia! I wanted to stay and shop (they had Havaianas for £3), but our guide whisked us away…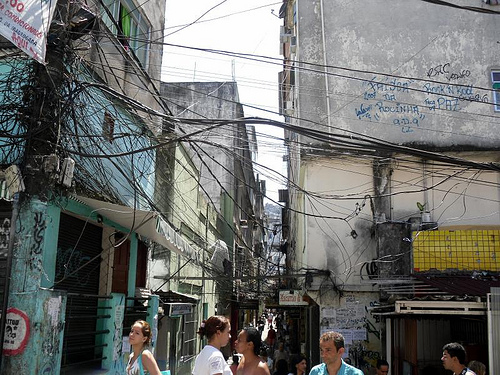 The two things that struck me were, firstly, the optimism that our guide had for the future of his city (Rio is set to host the World Cup in 2014 and the Olympics in 2016, both of which have prompted the government to invest heavily in the city and of course will boost the economy enormously) and secondly, the extraordinary resourcefulness and ingenuity of the local people. The people living there seemed to be doing everything they could to better themselves. Children spend half the day at the (not very good) state school and the other half at a youth group or community school where they can use computers, read books (which are expensive and not easily available to most) and learn to make crafts and artwork, which are sold to raise funds. We saw some amazing pieces on a local stall, made from recycling what to us would be rubbish, for example hats made from plastic bags that had been woven together and bags and belts made from metal can ring-pulls. Another example of entrepreneurship was a company called "Moto Taxi", set up by local lads with scooters and motorbikes who charged people a few Reals to go up or down a steep hill in one of the favelas. One local group had even appropriated an old, abandoned hotel to use as their community centre. It was a rather inspiring morning.
That afternoon we headed up the mountain on a funicular to see "the other JC" – Christ the Redeemer and were pretty blown away by the scale of the statue (he looks ever so small from a cab in the Centro) and the amazing 360 views, including Sugarloaf mountain.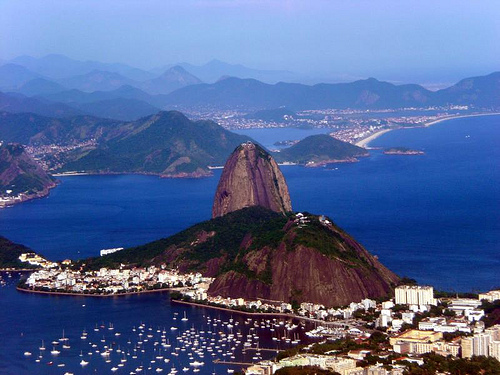 Friday was of course the big three-oh for me and "Dare-devil Diego" and I had decided to go hang-gliding over the city. We were pretty nervous while we waited to be picked up, not about the flight itself, but about the take-off, which basically involves running off a platform at the top of a mountain! We needn't have worried though; our pilot was very experienced and calmed our nerves. The flight was I think as close as a person can get to being a bird. It's quiet and smooth and the views of the whole city are fantastic. Circling over the beach before landing, flying low over sun-bathers and swimmers was surreal and I didn't want it to end so soon.
In the evening we headed out for a few drinks and a spot of dancing at a club called The Week. The night was circus themed and had acrobats, jugglers and dancers putting on a spectacular show. The Gool hit the caipirinhas and got his groove on. Check out the end of this video – Kevin and Perry 'ave it LARGE…
On our penultimate day in Rio, we went to Maracana stadium to watch a match between local Rio underdogs, Fluminense and Sao Paulo hot-shots, Palmeira. We were sat with the Fluminense fans, supporting them (which was easy to do, as the team flag is red, white and green, like a sideways Italian flag). "Gool" means goal in Portuguese, so we felt right at home. The atmosphere was totally tribal, with samba drums and chanting. Here are the highlights (Fluminense are playing in their white away strip):
Finally, before heading back to Iguazu, we took a trip on the tram in Santa Teresa, which is a beautiful part of the city – full of gorgeous old run-down houses, covered in creeping flowers and brightly coloured graffiti. We stopped for lunch at a place that served traditional Brazilian food and tried some manioc flour with olives and pumpkin, grilled goats' cheese and beef in a milky sauce with onions, which was all delicious.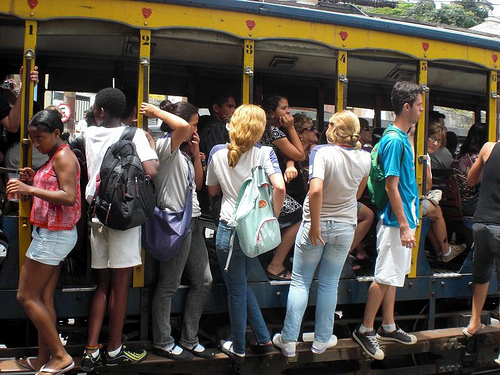 More pics here (with much thanks to Diego Bailey).
Love Gude x