Argentina. We love it. It's been our favourite country so far and that's mostly down to the food and drink! Here's a list of the culinary highlights:
– Amazing steak; juicy, pink and full of flavour. Some of the best we had was at "Don Julio" in Palermo.
– Submarino (see pic below). A cup of hot milk that comes with a bar of chocolate that you stir in to melt and congeals at the bottom – a proper hot chocolate.
– Picadas. Ise's favourite snack. A plate of meats, salami, ham, cheeses, olives etc, served with nice bread and oils.
– Locro. Goat stew with corn, green vegetables and pumpkin – delicious.
– Rabbit pie, with a puff-pastry top.
– Wine ice-cream. Like a boozy sorbet. It really does taste like wine. I liked the white (Torrontes) best.
– Grilled goat. Not the whole thing, but probably about a quarter. Ise finished the lot.
– Parrilla. A mixed grill of all kinds of meat, including chicken, steak, sausages and offal. We ordered a small one to share and still couldn't eat it all!
– Wine. Some fantastic ones from Cafayate (pronounced Cafajatay), where we had several free wine-tastings in the bodegas (local vineyards) and may have been slightly less objective by the end of the afternoon…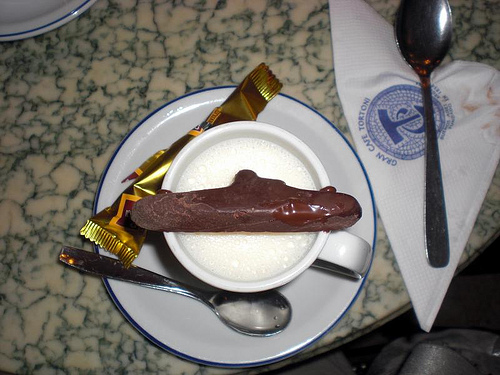 We went quad biking in Cafayate (an early birthday present for Ise), which I did start to enjoy after a while, once we got onto the sand dunes and it wasn't so bumpy, but I did need to cling on for dear life and Ise almost steered us down a ditch within 10 minutes. If you listen closely to the video, you can hear me yelping with fright at several points…
After our first lazy and luxurious night in Buenos Aires at a fabulous hotel for Ise's birthday (thank you Fiona!), we started to explore the city properly and spent a day at the zoo. In Buenos Aires, visitors are allowed to feed the animals (well, most of them!) with food that the zoo sells for £1 a bag.
Ise liked the white tiger best. I loved the big cats too, but was also a big fan of this clever heffalump who knelt down to pick up the food that people had thrown with his trunk. The seal and sea lion show was great fun too. I love it that they clapped themselves – super cute!
On Monday we went to the Hippodrome (Buenos Aires racecourse) and spent the afternoon betting on horses. The minimum bet is 1 peso (about 16p) and we managed to pick 3 winners, meaning we ended up leaving about £8 up. Not bad for a good day's entertainment. However, I was most put out when "El Trumpador" (a horse with long odds who I'd picked because of Ise's terrible wind the night before) was pipped to the post. I should have put my money on for a "segundo" (each/way) instead of a "ganador" (to win). The other thing about Argentinean betting is that you don't get your stake back – just your winnings, which we thought was a bit of a swizz…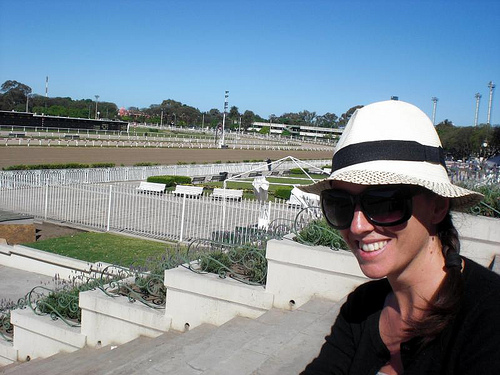 On Tuesday we took a free walking tour of the city, taking in the obelisk, pink presidential house, other governmental buildings and this real house perched on top of a high-rise, which one family still lives in!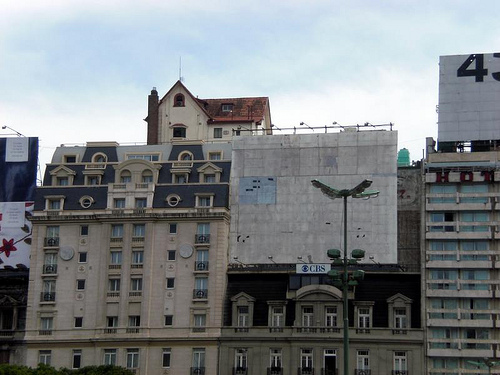 In the evening we went to a "milonga", where local people, along with a few tourists, show off their tango skills to traditional music. We hadn't had time for any lessons, so just watched and admired, while drinking wine. There were some fabulous red shoe and spats combos…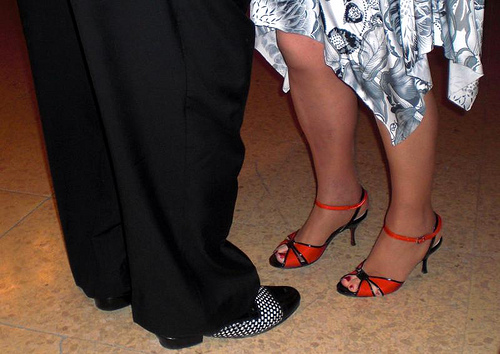 Finally we went for a wander around the cemetery on our last day, where famous Argentines are buried, including Eva Peron (Evita). Her mausoleum wasn't the prettiest though. I loved the overgrown, crumbling tombs best and wished I'd had time to try and draw some of them. There were several resident lolcatz too:
"I never liked him anywayz…"
One recurring theme of Argentina (for us anyway!) was free champagne. All night at a fab restaurant in Salta (El Solar del Convent – where I had the rabbit pie) because we told them it was our "luna di miel", in our Jacuzzi bath at the posh hotel (Legado Mitco, again thanks to Fiona) and even on the overnight bus from Buenos Aires to Iguazu in plastic flutes.
We loved BA (as the Argentines call it) especially because the different districts reminded us of some of our favourite cities; New York (Palermo), London (Centro), Barcelona and Paris (Recoleta).
More pics here x