Quite a few, when you're at Iguazu falls! We visited both the Brazil and Argentinean sides and were treated to some breath-taking vistas, cute critters and beautiful waterfalls. Ise has made this video so that I don't bore you with superlatives…
According to the Guarani Indians, the story of how the falls were created goes like this:
Every year the Guarani tribe would sacrifice a beautiful virgin to the Serpent God (M'Boi) who lived in the calm waters of the Iguazu river. Naipi, however, was not one of these condemned girls. She was to be married to Taruba, a great warrior from a neighboring tribe.
A few weeks before the marriage ceremony Naipi was walking near the river and M'Boi saw her reflection in the water. The Serpent God thought she was the most beautiful woman he had ever seen and demanded that the Guarani tribe give her to him. The elders of the tribe were too afraid to upset M'Boi because his father Tupa, was the Supreme God of All; so, they decided to sacrifice Naipi before she was to be united with Taruba.
Taruba was furious and made arrangements to meet Naipi at the Iguazu river and runaway. Unfortunately M'Boi saw Naipi climbing into the canoe and a frantic chase ensued. M'Boi became so angry that his body expanded to the size of the river. He slithered and squirmed, causing the river to form new curves, and eventually he forced the earth to split.
The river spilled over the cracked earth, forming the now famous falls. Taruba was knocked out of the canoe and tossed onto the embankment. Naipi was trapped inside and about to smash into the land below when M'Boi changed her into a large rock, so she wouldn't be able to run away. Taruba saw the transformation and tried to rush down to her, but his hands were pulled into the earth by M'Boi. His fingers were stretched so deep into the embankment that they turned into roots and Taruba grew into a palm tree – forever rooted to the earth above the falls.
This was M'Boi's revenge, separating the two lovers by an enormous waterfall, so they could see each other but never touch. M'Boi is said to lurk deep in the water's of Devil's Throat, watching the palm tree and the rock, making sure that they never unite. Although Naipi and Taruba can never be together, they still show their love by forming a rainbow which starts at a palm tree on the Brazilian side of the falls and reaches over to the rock of Naipi in Argentina.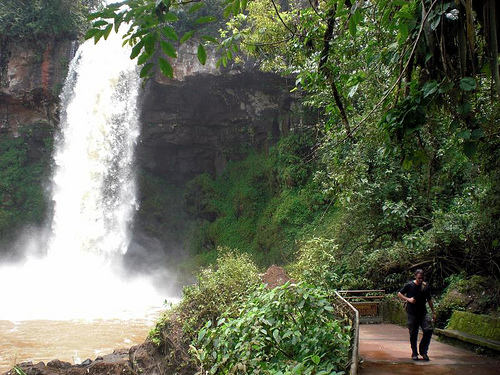 Often quoted in guide books; apparently upon seeing Iguazu, the United States' First Lady Eleanor Roosevelt exclaimed "Poor Niagara!"
As well as the enormous amounts of water, we saw some cool creatures at Iguazu. Among these were giant lizards, enormous millipedes, ring-tailed coati (featured in the video) and beautiful multi-coloured butterflies, mostly bright yellow or blue and some black with neon pink and orange patches, which I dubbed "disco flutterbys". One of the butterflies decided to befriend me on the train back to the park entrance and sat on top of my head for ages. Can you see him here?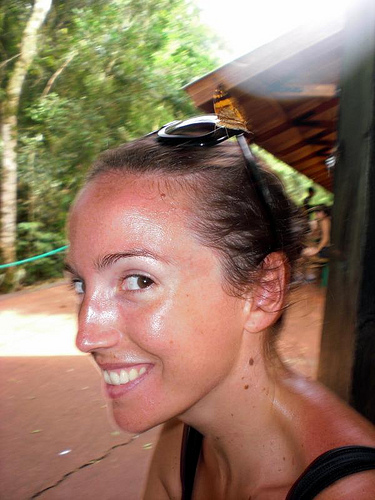 After Iguazu we headed back to Buenos Aires for another week of eating steak, drinking red wine and generally chilling out seeing some more of the fabulous city. This time we visited the Sunday San Telmo antiques market, which was celebrating its 30th anniversary and in order to celebrate the occasion all the stall-holders had dressed up as crazy characters. Ise has made a great video of the madness, so you can experience it for yourself…
We also visited the botanical, Japanese and rose gardens in Palermo, which are lovely and peaceful to wander around. We liked the botanical garden best. It had a "tree trail" where you follow a map to various trees and gives you information about each of them. My favourite was a fig tree that had enveloped another tree and "strangled" it – sounds gruesome, but looked really pretty – like a laced up corset. You can see Ise hugging it along with the other pictures here. The botanical garden was full of cats. There were literally about a hundred cute kitties living there, lazing about in the shade and sidling up to visitors for a chin skritch. This cheeky one kept tapping Ise whenever he dared stop tickling its tummy.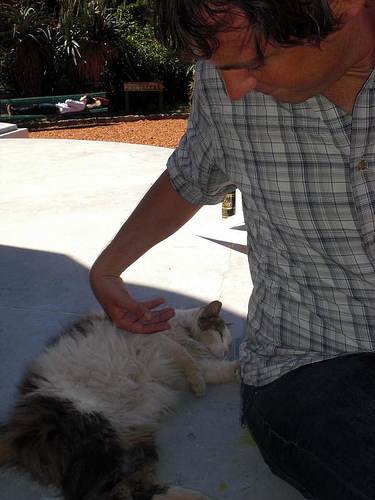 Near the Japanese and rose gardens we found an amazing ice-cream place called Un Altra Volta (meaning another time) that we've since learned is a well-known chain in BA. The ice-cream is some of the best I've ever had. My favourite flavour was mascarpone and red berries and Ise's were dulce de leche and lemon cream.
On our final day we went back to the Recoletta district, so that Ise could try the 6 beer tasting selection at a BA brewing company pub. He liked the honey beer best, scoring it 9 out of 10 (third from right in this picture).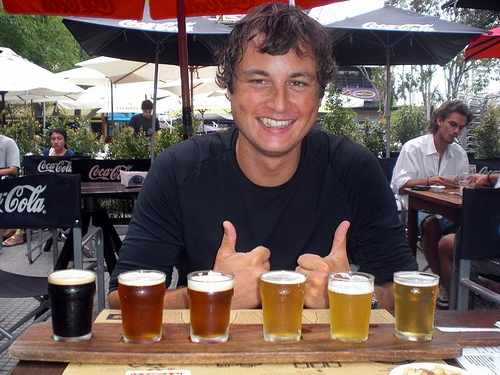 We're now in Mendoza and yesterday we went horse-riding in the mountains to the West of the city. My horse was a girl called Argentina (appropriate!) and Ise started on the male horse called Matteo. Matteo was a bit slow and kept stopping to eat and refusing to go downhill, so our guide swapped horses with Ise, putting him on the daughter of mine, named Pampas. She was a feisty thing – prone to stopping and swerving randomly and cantering up hills. Understandably, Ise wasn't totally comfortable with Pampas, so he asked to switch back to "old man" Matteo. We both had a good time pretending to be gauchos and it was definitely worth the sore backs today…