We've been in Cartagena since last Sunday – it's incredibly hot and humid and it took us a few days just to aclimatise and work up some energy. We were staying in the roughest area of the city, where all the drug dealers and pimps hang out, but they didn't cause us any trouble when we told them "no gracias" to whatever they were selling. The old town, inside the city walls is very cute – old buildings, lots of metal sculptures and statues, horse-drawn carriages and people selling hats, necklaces and artwork on the street – great for people watching.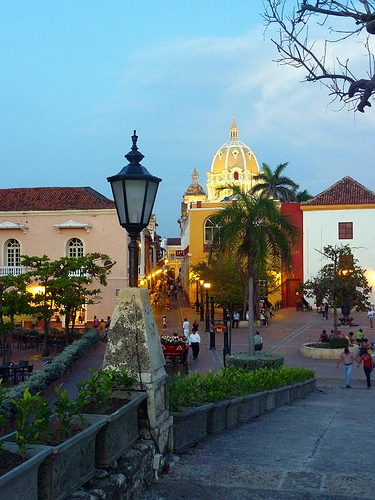 On Tuesday we went to the Museum of the Inquisition, which has a chair for weighing suspected witches and a list of the questions that were asked to them, such as:
– How long have you been a witch?
– What demons and people attended your wedding?
– What evils have you caused? To whom and how?
– How can you fly through the air?
– What worms and caterpillars/slugs have you created?
There were also plenty of horrible-looking instruments of torture, including; a rack, some kind of pincers for gouging genitals, a chair with a metal band around it which was tightened, crushing ribs and internal organs, a kind of head vice with saw-teeth on the edges of it and this double-ended fork which was strapped to the neck and meant the victim had to keep his head right back, or he would be impaled (not exactly Alexander-technique approved, Dad!)…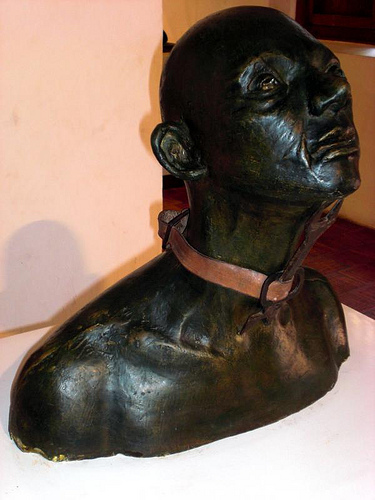 There was also a guillotine and gallows in the garden of the museum, which visitors could take silly pictures with – so we did! I should imagine anyone who'd been in the torture chambers would have been relieved to be hung or had their head chopped off – at least that would have been quick.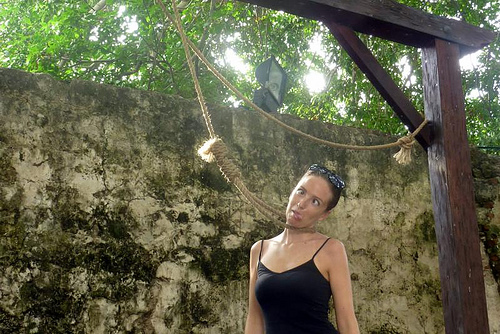 On Thursday morning we went to Vulcan Totumo, which is 50km outside of Cartagena and is a relatively small "volcano", filled with mud that goes down 250m deep inside it. We all got into our bikinis/trunks and climbed up and into the warm mud pool at the top of the volcano. It's a very strange experience, as the goop is so thick, you literally can't sink or swim. We were all sort of suspended in this thick, warm stuff that looks and feels like chocolate custard.
The mud is full of minerals that are supposed to be very good for your skin, so we all slathered it on over our faces and bodies. There are men there who will massage you in the mud (for a tip) and another who looks after everybody's cameras and somehow remembers whose is whose, in order to take pictures of us (again for a tip). Because the mud is so thick and covers everything, you don't feel exposed at all, despite wearing next to nothing. It also means that, in order to move anywhere, you have to either find someone to help pull or push you through/over the mud, or grab hold of the nearest leg/shoulder/elbow and haul yourself along – there was no shyness in the mud pool! Ise completely submerged himself and it took 6 cotton buds to clear the mud out of his ears even after a wash in the lake and a shower…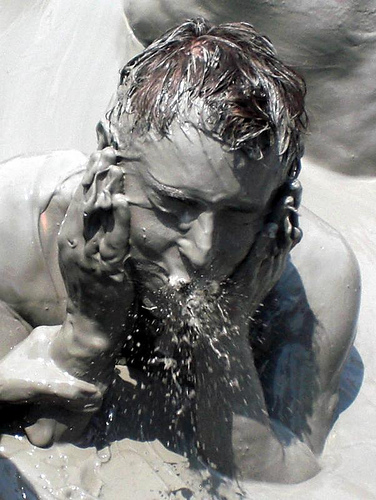 We're now in Bogota (looking several years younger post mud bath) and it's much cooler than Cartagena because it's higher above sea level, so my thermals are back in action.
More pictures here
Love Gude x