We've been in Bogota for almost a week and have come across an increasing amount of an addictive white powder that can be found on every street corner, in the "panaderias", sold by kindly ladies with white coats and hairnets. It's called icing sugar, it covers the delicious pastries and cakes that are made here in Bogota and we're hooked! We generally have just one "proper" meal a day (i.e. something with meat and vegetables) and otherwise survive on coffee (Ise), chocolate caliente (me) and various tarts, flans, croissants, cheesecakes, crepes, ice-creams and sponges. We are now cake addicts. We're like a couple of toddlers on sugar highs, racing round the city trying out all the various naughty options…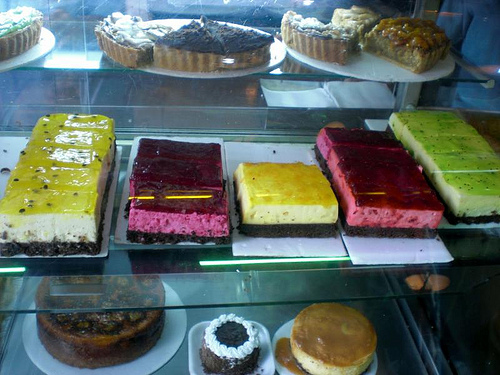 Bogota is a great city and not at all as dangerous as we'd been led to believe (though we did meet one guy who had been mugged in the area we've been staying and the taxis are pretty terrifying; speed-demons with no seatbelts) – we didn't have any trouble. The Bogota tourist board's slogan is "The only risk is wanting to stay" and there is a large police and private security presence on the streets, especially in the Candelaria (where our hostal is) and in the historic city centre. Every Friday night, one of the main streets is pedestrianised for a party, with street-vendors selling everything from hot spiced wine, popcorn and kebabs to local artwork, jewellery, Polaroid photos and toys. There's karaoke, bands, dancers, clowns, comics and other entertainers and they also have games that anyone can play for free, including giant dominos, jump-rope and a kind of volley ball where players work in pairs, using sheets to catch and throw the ball over the net.
The weather here is like an English spring at the moment, warm when the sun shines, but cold at night and with some showers. We've found Bogotanos to be generally very friendly and helpful. We've twice been stopped in the street while wandering around looking confused and given directions (in English) by locals – one girl even put us on the right bus and spoke to the driver to check it was going where we wanted to. Even the hoodies seem to have some talent here – the graffiti is fabulous…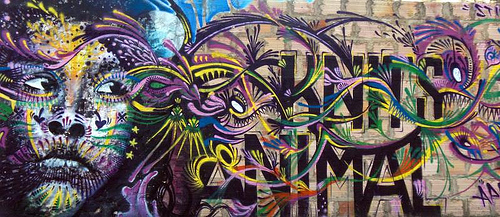 On our first full day here we took the cable car up Montserrat at the Eastern edge of Bogota to the church at the top and were rewarded with some great views over the whole city. There are statues with inscriptions on the way up the mountain, telling the story of Jesus and some people take a pilgrimage, walking to the top instead of cheating like we did. The church at the top pipes its sermon and music (just the one Spanish hymn, over and over again) through speakers, which I think would have driven me barmy if I had decided to walk up!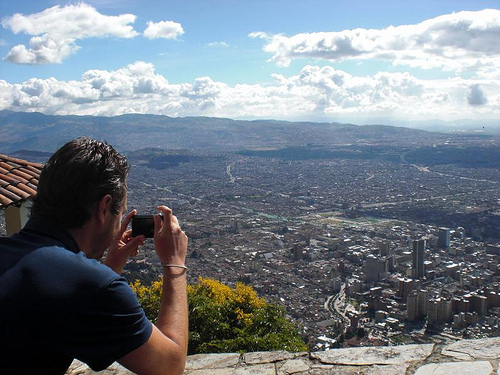 On Sunday we went to the Gold Museum (Museo del Oro), which was free – we just paid a couple of quid for audio guides in English. Some of the gold pieces there are really beautiful works of art, created as long ago as 500BC. They have survived because gold doesn't rust and some of them were entombed with great chiefs, as part of their wealth that would be needed in the underworld, or dropped into lakes as offerings to the gods. I especially liked the first piece that we saw – it was made by folding and moulding sheets of gold to a conch shell. The shell has disintegrated over time, but its shape had been perfectly preserved by the gold artist's skill.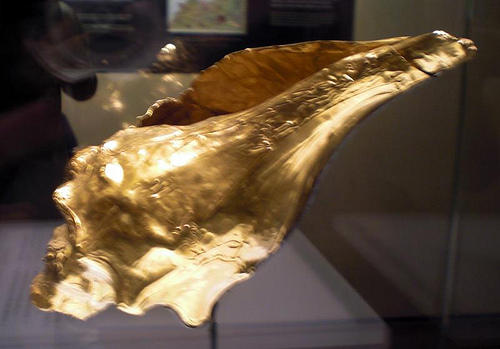 Later in the museum, we saw how important symbolism is in the jewellery and other gold pieces. Pre-Hispanic "Amerindian" people saw their universe in 3 parts – the "male", dry, light world above, where gods lived, the "female", wet, dark, underworld where ancestors and supernatural beings lived and the world as we know it, where humans lived. Combining elements of the "male" and "female", the human world needed to be kept in a delicate balance. Shamans helped to do this and their clothing (animal skins, feathers etc) and jewellery, taking the form of various animals – often jaguars, birds or bats – represented the different elements of the universe.
I loved the way that instead of having their old and damaged chest plate/nose ring/anklet melted down and re-made, or trading the gold for something valuable, people tended to make repairs themselves, with tiny gold hoops, or wires. It wasn't the gold that was of value for them – rather, it was what the object represented – its symbolic power.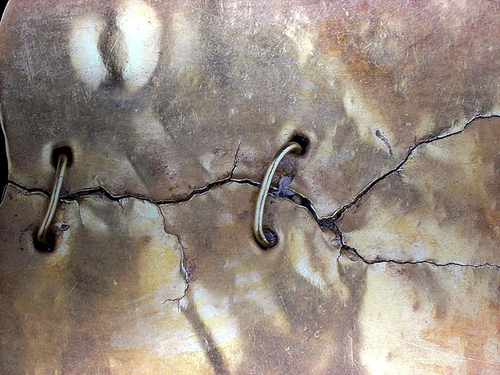 On Wednesday we took a trip out of the city and went by bus to nearby Zipaquira (50k north east of Bogota), which is famous for its "cathedral de sal". What started as a salt mine, in which miners had carved a small sanctuary to pray, was extended and developed into an underground cathedral, made entirely of carved salt between 1950 and 1954. Unfortunately this original cathedral is no longer open to the public, as it is structurally unsound. However, a new salt cathedral was constructed in the same salt mine, beneath the original one, between 1992 and 1995 and we were able to visit this with an English speaking guide called Nixon (see his pic and more here). Among other things, Nixon told us that salt was the first form of money. It was traded and used as a form of payment for services. The Spanish for salt is "sal" and this is the root of the word "salary" that we use today.
The tour started with the 14 stations of the cross, representing the final events in Jesus's story, from being condemned to death, to resurrection. This is my favourite "Jesus meets his mother", as I just think it's really beautifully lit.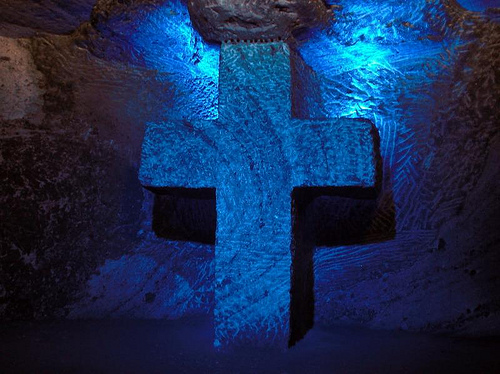 After the stations of the cross, there are three large rooms, leading on from one another: "Creation", with a circular carving, strongly influenced by Michaelangelo's fresco in the Sistine chapel, "Birth", containing a carving of the nativity, which we had to symbolically squeeze through a narrow chamber to get into (see pic of Ise below) and "Death", which had two low, flat platforms, lit from below, one on top of the other, at slightly different angles, to symbolise movement from this world to the next. After these 3 rooms, 180m underground, we finally came to the main cathedral room, complete with alter, pulpit and the biggest underground cross in the world. The cross is 16m high, but it's actually an optical illusion – it's really a space in the shape of a cross, lit from behind so that from a distance it appears solid. Still amazing though!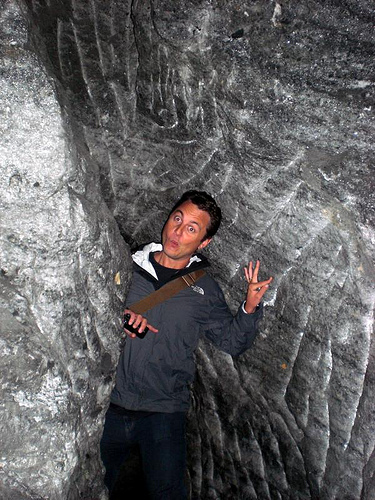 It's an awe-inspiring place – the scale is mind-blowing and the fact that literally everything you see is carved from salt made my head spin. Apparently you can get married in the cathedral, but I can't imagine what that would cost. It would certainly be a fantastic place for a gothic-themed party!
To finish the tour we were taken to the mineral lake, which is only about 10-15cm deep, but because it is 3 times saltier than sea water, it reflects the ceiling of the salt cave like a mirror and looks like it is much deeper than it actually is, which is a pretty amazing trick. After the tour, we saw a short 3D film (with English subtitles), that explained the history of salt and the mine. Then we were able to go into the mine and although we couldn't understand much (the guide for this part only spoke Spanish), we did get to wear silly helmets and mess about with pick axes. We were even allowed to light a pretend fuse and listen to sound effects of the salt rock being blown apart. It was a very interesting experience and good value too – we had a great day!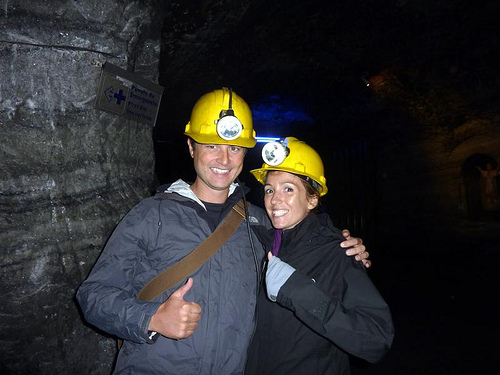 We're now in Peru, so the next blog will include Machu Picchu…
Love Gude x