We've spent the last week aboard the Windseeker, a pretty little boat owned by chain-smoking Aussie Captain Mike (Mr Birdseye-on-Slimfast on the left below), being fed extremely well (lots of yummy pasta) by Maurizio (on the right) – a half Scottish, half Italian (and all mental) chef who could well have been Mario and Luigi's long-lost brother, given his stereo-typical facial hair and the fact that he used to be a plumber!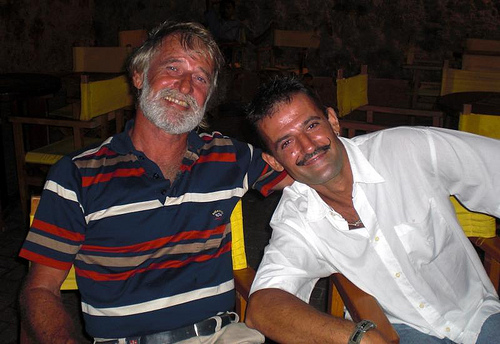 I was the only girl aboard the boat, but luckily the other boys were fully house-trained. As well as Captain Mike, Mauri the chef, me & Ise, there was:
– a young lad called Josh from Sydney, just out of school on his gap-year and in love with a girl from England who he'd met at summer camp in the US
– a Canadian called Trevor who has a working knowledge of slang and swear-words in several different languages
– a Dutch guy called Adrian with cool tattoos and a mad mohican, nicknamed Flotsam by Captain Mike
– a Californian hobo called Brian, who owned just one pair of trousers – Jetsam to Adrian's Flotsam
These last two were collectively (and affectionately) termed "The Crackheeds" by Maurizio because they liked to get stoned as often as possible.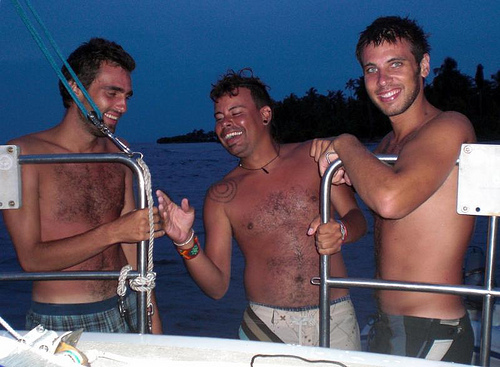 The first few days on the boat were fantastic – such a contrast from miserable Puerta Lindo – we had lovely hot weather and a couple of dolphins came to swim alongside the boat with us.
We spent our days chillaxing, watching sunsets, drinking rum, swimming and snorkelling in the idyllic San Blas Islands. There are over 360 of them (almost one for every day of the year!) and each one is owned by a family of Kuna Indians. Most of the islands are tiny and some have just a few palm trees on them. I thought we'd be eating and drinking from coconuts the whole time, but apparently you can get into lots of trouble for taking the coconuts, because each and every one belongs to a Kuna family and they used to be used as a form of currency, so taking one is akin to stealing. The Kuna came up to our boat pretty much as soon as we set anchor next to any of their islands, trying to sell their crafts (beaded bracelets and fabric tapestries), or asking for onions, milk etc. One came to sell lobsters (still alive and wriggling in their boat), which the boys cooked later on a make-shift BBQ, along with red snapper.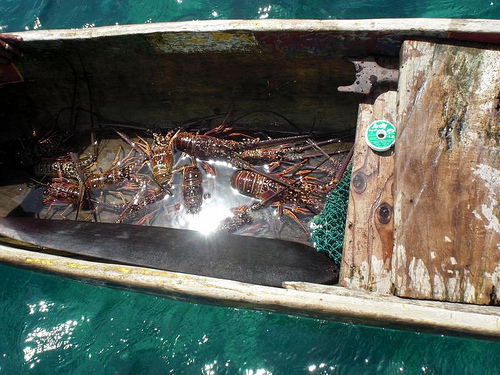 As usual, my favourite part of the trip was the bit where we were under the water – snorkelling. We stopped at a particularly gorgeous place called dog island (the Kuna brothers who own it charge $1 to sit on the beach – it's that fab), where there is an old wreck that comes right up to stick out onto the beach. The wreck is covered in coral of all kinds and colours and there are loads of cute fishies swimming in and around it, the tiny silver ones in schools near the surface, bright-hued flat ones in the mid-depths and longer larger ones lurking in the shadowy cooler waters.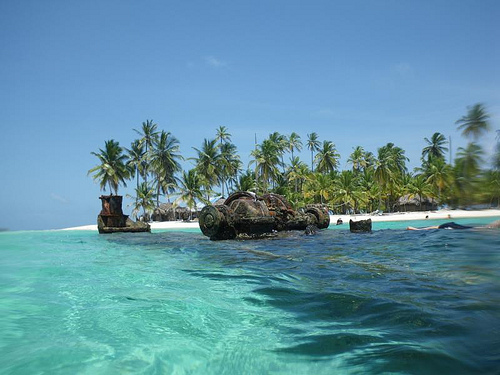 Ise swam right inside the wreck and near one of the last islands we stopped at; he swam out to the reef and met a shark. Luckily he knew it was a friendly shark, because it had swum up to our boat the day before to introduce itself and we were told it wasn't a scary aggressive one, but he still freaked out a bit, as it was pretty big and close to him – he swam back to the boat very fast!
The last couple of days of the trip weren't so much fun, as we left the islands and headed for Cartagena, so it was all sailing and motoring. Luckily neither of us felt sick, but I did have a temperature on the last day and we were both in dire need of a shower when we arrived on Sunday morning…
More lovely pictures here (with special thanks to Trevor for his underwater shots!)
Love Gude x