It's hard to describe the way I felt at Tuol Sleng Genocide Museum and later at the Killing Fields just outside Phnom Phen city, Cambodia. Certainly I was incredibly sad, appalled, horrified and sickened. The hundreds of mug shots of now-dead people staring hopelessly out at us from the past were truly chilling.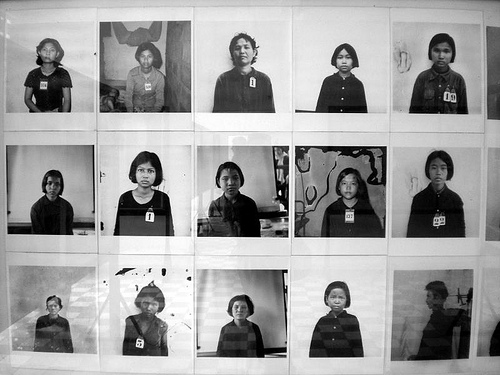 In 1975, the Khmer Rouge led by Pol Pot overthrew the pro-Western government of Cambodia and embarked on a process of agrarian social engineering, eliminating the middle and upper classes and forcing nearly everybody that remained into working in the rice fields. Money was abolished, as were all forms of individualism, even the idea of love and family was forbidden in an attempt to create a perfect communist society.
Tuol Sleng was once a school, a place of laughter and learning but at the beginning of the genocidal regime it was transformed into the exact opposite; the building, "S-21" became a detention centre where an estimated 20,000 people were interrogated, tortured and finally killed. The classrooms were turned into small cells and the windows were covered in a net of barbed wire to prevent prisoners from committing suicide by jumping out.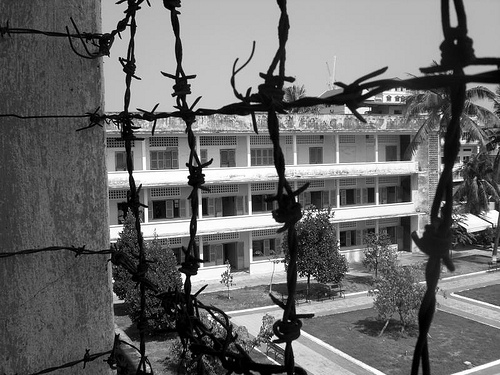 These people were mostly ordinary citizens; workers, technicians, teachers, doctors, Buddhist monks, diplomats, foreigners and their families, including children. Almost everyone who was educated was put to death. If a person was suspected of dissenting from the methods of the regime, they would be told by officials "Angkar invites you to go for further education" and they would be imprisoned and later executed without proper investigation or proof of having committed any crime. The Khmer Rouge philosophy was "It is better to arrest ten people by mistake than to let one guilty person go free". It is as if the leaders had read Orwell's "1984" and thought it was a blueprint.
The Killing Fields at Choeung Ek really hammered home the horror of the devastation and death caused by this cruel regime. In 1980, 86 of the 129 mass graves were unearthed and almost 9,000 corpses were discovered, including over 100 women with their babies' smashed skulls beside them.
This sacred memorial "stupa" has been built at the Killing Fields to contain the remains of the dead in a respectful way that encourages remembrance. It contains nearly 8,000 skulls, plus clothing and bones over 17 tiers and serves as a shocking reminder of the scale of the atrocities committed by the regime. Each one of these skulls represents a real person, just like you or I – men women and children who were brutally killed and buried en masse in shallow graves. Choeung Ek is only one of several "killing field" sites, many of which remain unexcavated. Estimates suggest that 1.5 million people were killed during the years 1975-1979, a truly shocking figure.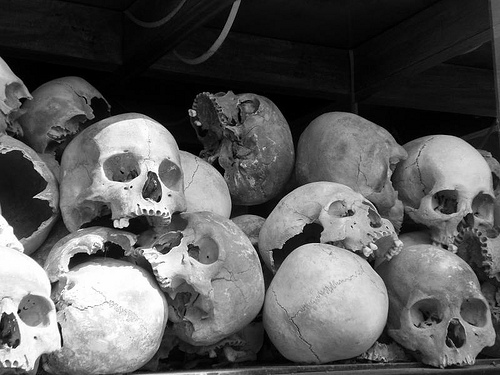 It is hard to describe the feelings invoked by these places, but the overwhelming sense upon leaving and reflecting back on our day was confusion – how can people do such horrific things to their neighbours? How can anyone think that family, laughter, education or love can be bad? How can so many innocent people become victims of an ideology?
A large part of it must have been due to fear. One Khmer Rouge member named Nhem Yean (aged 21 in 1977) said "When I worked at S-21, I did not have the motivation, but I had to, otherwise I wouldn't live. However, no matter which option I chose, I still feared. There was nothing I could do".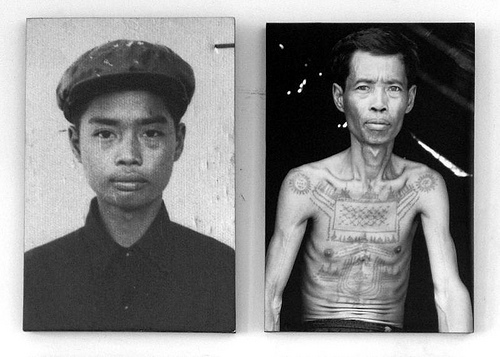 Even so, how can ordinary people torture and kill women and children, even babies? I don't think I will ever be able to understand that.
"The New Regime", a poem by Sarith Pou, summed it up better than I can. Here's an extract:
No school. No learning.
No books. No library.
No science. No technology.
No pens. No paper.
…No human rights. No liberty.
No courts. No judges.
No laws. No attorneys.
…No social gatherings.
No chitchatting.
No jokes. No laughter.
No music. No dancing.
…No radio. No TV.
No drawing. No painting.
No pets. No pictures.
No electricity. No lamp oil.
No clocks. No watches.
No hope. No Life.
A third of the people didn't survive.
The regime died.
By complete contrast, we spent a happy few days in Siem Reap, meeting up again with my cousin Mark and his friend Tom, eating frog (it tastes like chicken thigh!) and visiting Angkor Wat, meaning "city temple" a complex built for the king Suryavarman II in the early 12th century. Mostly built of sandstone, the detail and elaborate architecture of Angkor Wat is breathtakingly beautiful. The bass-relief friezes on the inner walls, depicting Hindu stories (including battle scenes, 37 heavens and 32 hells – these with the greatest detail, plus inscriptions!) are so intricate that I could have spent hours looking at them.
The "Churning of the Sea of Milk", the Hindu creation myth, shows Vishnu in the centre, above his avatar turtle, Kurma. To left and right, the gods (devas) and demons (asuras) use the serpent Vasuki, wound around holy Mount Mandara as the cord in a giant tug-of war, pulling backwards and forwards over a thousand years to churn the ocean in order to retrieve amrita, the elixir of immortality. During this process, other precious objects came to the surface including the moon, the conch shell, a divine horse, a wish-granting coral tree and the beautiful goddess Lakshmi, who Vishnu took for his wife.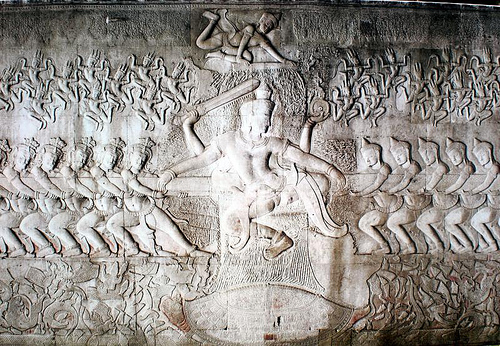 Angkor Wat is truly glorious, but it wasn't my favourite of the temples. I preferred the smaller ones, particularly Bayon temple, with its 216 faces of Avalokitesvara, a deity who embodies compassion in the Buddhist faith.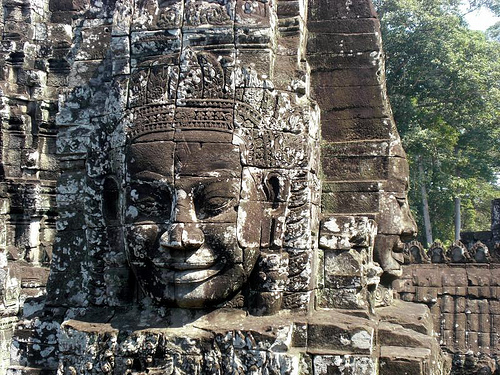 Another favourite was Ta Prohm, nicknamed the "Tomb Raider Temple". This one felt as if it had just been discovered, as it was so completely part of the jungle. Huge trees have grown into and around the entire structure, their roots supporting it in some places, destroying it in others. The combination of nature and ancient architecture was stunning.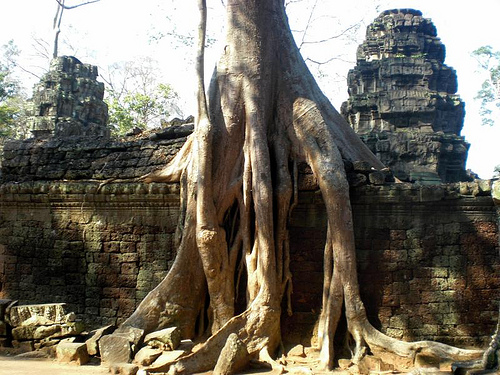 Since returning to Thailand for the last fortnight of our trip, we've been staying in a hut on Koh Lanta, right on the beach. Mostly we have been sun-bathing, eating pad thai and watching beautiful sun-sets, but we've also been snorkelling at Koh Rok, where we saw angel, parrot and "Nemo" clown fish, barracuda, sea cucumbers, beautiful corals and giant monitor lizards who came to try and steal our chicken at lunchtime. They seemed amiable enough, but our guide told us to keep at least 1m back, as they can get aggressive if they feel threatened.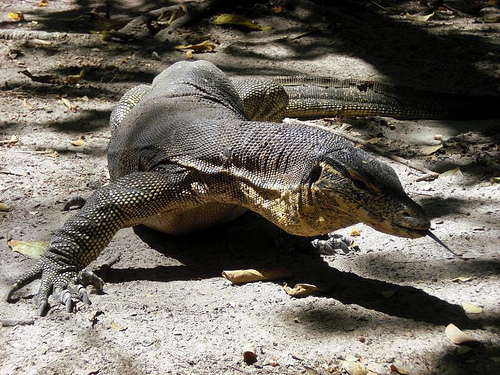 We met a fellow couple of card-sharks, Ruth and Matt, who taught us "Golf" and "Cribbage" and picked up "Canasta" in record time, with Ruth getting the hang of Ise's evil-Gool tactics during game 2! Here's a picture of us in the bar on the beach.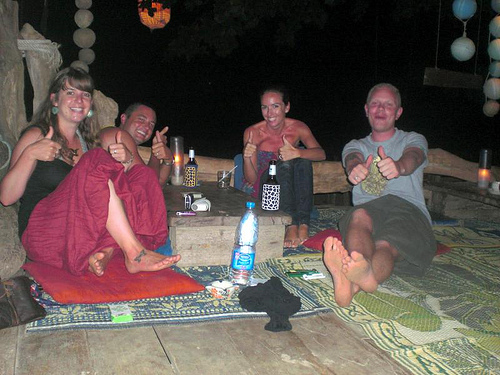 Yesterday we took a trip to some of the neighbouring islands, including the Emerald Cave, a hidden beach, once used by smugglers, which you can only get to by swimming 85m through rock-enclosed darkness. It was well worth the swim, as you can see…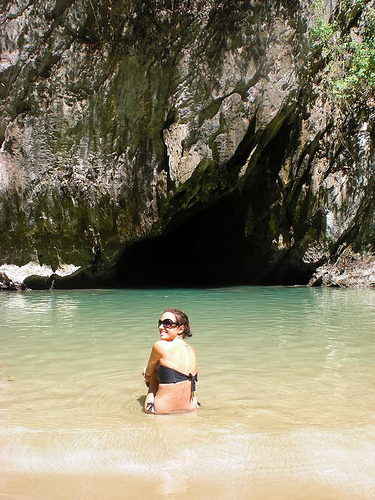 Sadly teamGool's round-the-world honeymoon is drawing to a close and we fly back to London on Saturday night, but there could be one last blog to come…
More pics as always here.
Love Gude x