We've spent almost a week in Chiang Mai, Northern Thailand – THE place for animal experiences. I've wanted to get up-close and personal with elephants for a long time and finally got the chance to do so a few days ago at Baan Chang Elephant Park.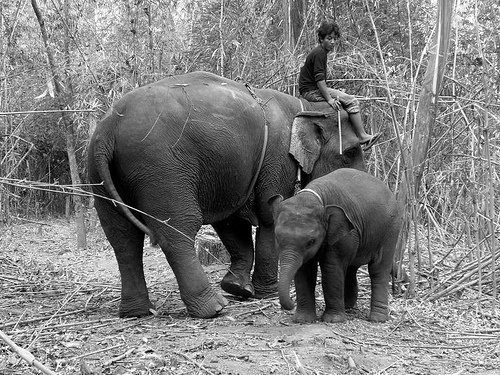 We were worried about encouraging unethical elephant camps and exploiting the animals, so we did quite a bit of research beforehand and learned that the elephants here are not made to do tricks like painting and playing football for tourists. They have either been rescued from elephant "camps", or from owners who led them through the city begging, or (in the case of the babies) have been born at the park. At Baan Chang the baby elephants are always kept with their mothers if possible (sadly sometimes the mothers reject their babies) and visitors and mahouts ride bare-back, instead of in heavy, uncomfortable chairs. Baan Chang only allows small groups to spend time with the elephants and visitors must fit in with the elephants' routine, rather than the other way around.
Our day started with a trip to the local market to pick up 20 sacks of bananas and sugar cane; "treats" for the elephants. Upon arrival at the park, we changed into our mahout outfits and were introduced to the elephants for the first time. We were encouraged to feed them, so that they would understand that we were friends and build our confidence around them. They are such powerful creatures, I really got a sense of how dangerous they could be, but they were so friendly and comfortable around people that we soon relaxed with them.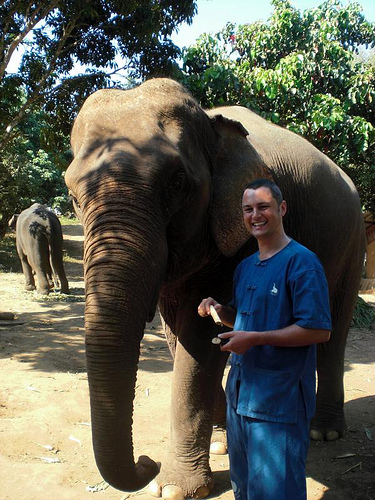 The elephants have such distinct personalities. One had been mistreated before it came to the park and didn't trust people yet. She had to be fed by holding bananas out so that she could take them with her trunk rather than straight into her mouth like the others. Another was quite demanding and would toot her trunk in order to get attention and reach out to grab bananas and sugar cane. Another was nick-named "dancing girl" because she was constantly swinging her trunk and stepping from side to side with her front legs. She'd not been taught to dance by the mahouts at the park, but had done so ever since they'd been looking after her. Finally, my favourite was this little baby, who, at just 8 months old, had been born around the time we were getting married and had to have her bananas peeled for her because her stomach couldn't handle the tough peel yet. She was just adorable and kept pointing to her mouth with her trunk as if to say "more bananas in here please"!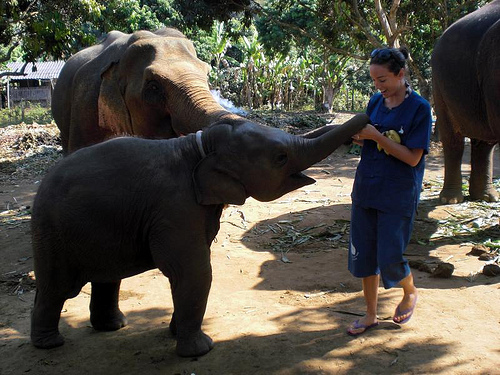 After an hour or so we were completely covered in elephant drool, with enormous grins on our faces.
Then we were taught by the mahouts how to control the elephants. We learnt how to use our legs and the mahout stick to "steer" and the basic commands for up, down, left/right, go ("bai") and, most importantly, stop ("bow")! The elephants were exceptionally well behaved and helped us to climb up onto their necks, in order to ride bare-back by lifting us on their front legs and lying down when it was time to dismount. However, I am sure they paid no attention to our foreign accents and were only listening to their mahout's instructions at all times! There is one mahout to look after each elephant and this is clearly a very special relationship, with the mahouts basically living with the elephants like a family and caring for their own elephant like an enormous toddler – feeding several times a day, bathing every afternoon, keeping them under control and comforting them when they are scared or upset. When a mahout held its elephant's ear (meaning, "don't worry, I'm here"), they instantly relaxed.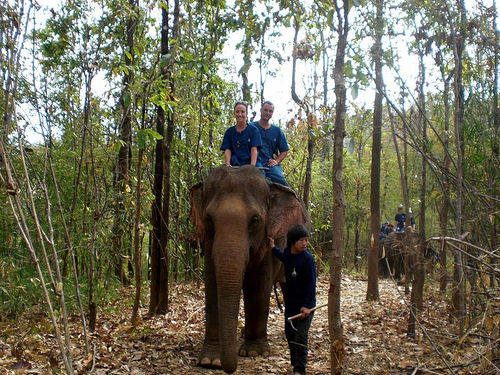 The mahouts gave us some interesting facts about elephants:
– They sleep for just 4 hours a day and when they go to sleep, they tuck their trunks into their mouths to stop bugs and snakes from crawling up their nostrils
– An adult elephant eats 250kg of leaves per day (plus bananas and sugar cane on top of that as treats)!
– A healthy baby elephant is worth 1 million baht (about £20,000)
– A female elephant is pregnant for around 20 months, sometimes up to 2 years!
– Asian elephants have smaller ears and are not as large as African elephants.
– Asian elephants have a dent in the top of their heads and African elephants don't.
– African elephants all have large tusks, whereas with Asian elephants, the males have long tusks, but the females have short tusks, or none at all.
– Elephants live as long as humans; 70 – 100 years.
After riding the elephants through the jungle for a short time, we came back to the park and rode them into a water trough for a mud bath, which was probably the best bit of the whole day. They clearly love bath time and couldn't wait to get into the water to swim around and spray us through their trunks, especially the baby!
While in Chiang Mai we've visited quite a few markets where Ise has sampled pretty much every kind of meat-on-a-stick and I've developed an addiction to fresh fruit and coconut smoothies. There's every kind of beauty treatment here for a fraction of the cost it would be at home. An hour-long massage is around 100 baht (£2) and I even had my feet nibbled by fish to get rid of the dead skin. Yes, it sounds disgusting, but once I got over the tickling sensation, it felt quite nice (they don't have teeth, it's just powerful sucking) and my feet were so soft and smooth afterwards.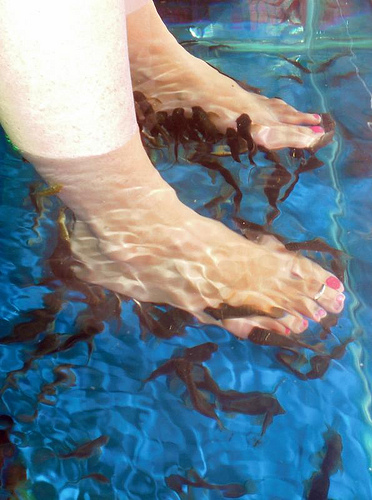 About an hour's scooter ride from Chiang Mai is Tiger Kingdom, where you're actually allowed to go into the enclosures and stroke the tigers. I started off with the 6 month old ones, which are super-cute and like to have their tummies tickled!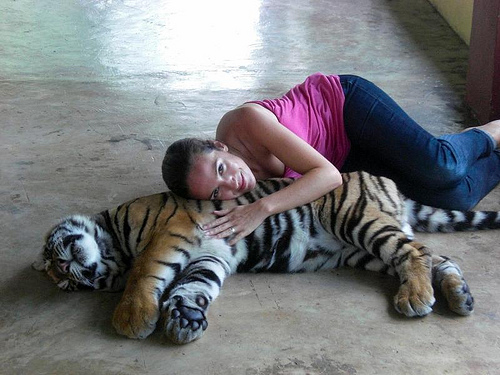 Then we were both able to meet the adult tigers, who were slightly more scary (bigger claws and teeth!) and had ridiculous names like Meatball, Sticky Rice and Spicy Sausage. Amazingly, they don't seem to mind people cuddling, stroking and lying on them, presumably because they have been brought up around people and are completely used to it. However, there were some important rules to stop us getting mauled:
– Approach the tigers from behind
– Turn off the flash on your camera
– Don't touch the tigers' head or front paws
– Do not make loud noises or run around inside the enclosures
– Do not provoke any kind of playful behaviour
Most of the time (18 hours a day, more when they are younger) the tigers are sleeping, so they're naturally placid and relaxed. I asked one of the keepers what they eat and he told me an adult male tiger eats 250kg of meat, 220kg for females. "What kind of meat?" I asked. "Mostly chicken, sometimes humans" was the reply. I'm not sure he was joking! Here's a video of us with the tigers…
Our time in Thailand started in Bangkok, where Ise got a much needed buzz cut (see the video here) and then it was off to Pattaya to meet up with my cousin Mark.
Pattaya could be described as the Blackpool of Thailand – an adults' playground with great weather, beaches, plenty of bars – a great place for a stag do (if you know what I mean)… An experience that I enjoyed for a few days, but I couldn't live there – it's a bit too lively for me! Luckily we had a great guide in Mark, who introduced us to his very lovely and gorgeous girlfriend Arisa and took us out for a night on Walking Street, which is a feast for the senses – bright lights, karaoke, lady boys and bars with "shows" that featured ladies without many (if any!) clothes… We ended up in a place with an ice bar, where the boys drank vodka shots to keep warm!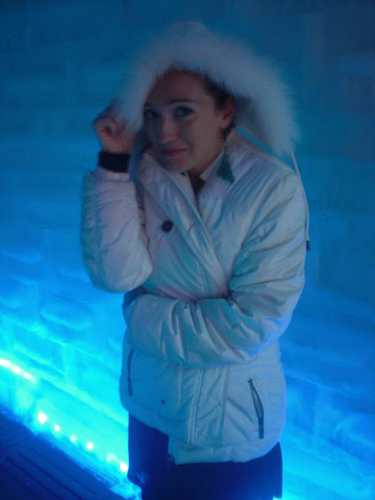 Mark also took us to Cabbages and Condoms, which though it sounds like an aging swingers' resort, is actually a very nice restaurant, which raises money for a charity that contributes to Thailand's rural schools, HIV/AIDS education and environmental protection. They have delicious food and some interesting Christmas decorations…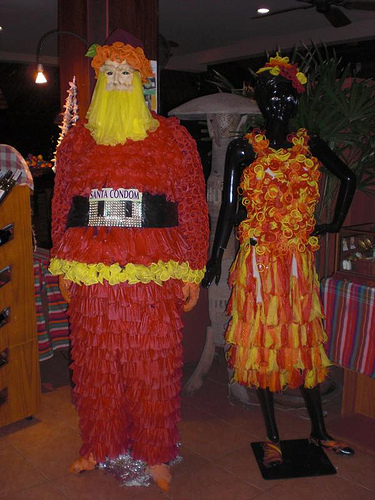 During the daytime, we got out and about on scooters, doing a spot of shooting and visiting a giant golden Buddha on the side of a mountain.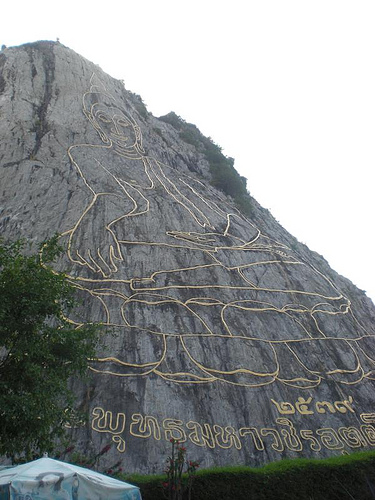 We've also visited Cambodia over the last couple of days, so expect another blog before it's time for teamGool to return home…
Love Gude x