Hong Kong is a curious city – a high-rise mixture of Chinese and Britishness that somehow works. Most of the signs and menus are in both English and Cantonese and cafes sell quintessentially English drinks like Horlicks and Ovaltine. Coffees come complete with condensed milk as standard. On the other hand, it's just as easy to get hold of some stewed pigs trotters and chicken knuckle soup with macaroni (we stuck to the Horlicks)!
On our first day in Hong Kong, we met up with my lovely, ex-boss Fiona, who is now living and working in Hong Kong and very kindly treated us to a fabulous meal in the city. Thank you Fiona!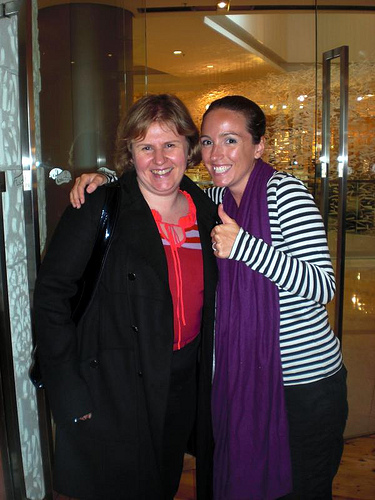 After that, we headed over to Kowloon on the exceptionally efficient MTR (tube) to check into our hotel. Kowloon is much more Chinese than Hong Kong Island, but space is as much of a premium here – our hotel room was about the size of a UK bathroom, with the "en-suite" basically a walk-in wet-room cupboard with a loo, sink and shower attachment. It was cosy to say the least, but it was clean and cheap, so we were happy enough!
Hong Kong is really a city of views and we got our first spectacular one after catching the tram (technically a funicular railway) up The Peak. We were able to see the city, harbour and Kowloon on the other side.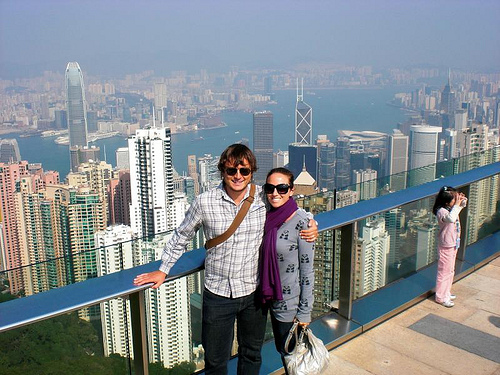 The Peak Tram commenced service in 1888 in order to speed up development of housing and increase residence in the Peak area. In the days when Hong Kong had a British governor, 2 seats on the tram were always reserved for him, plus a companion and could not be occupied until 2 minutes before departure, in case he decided to take the tram unannounced.
In the evening we caught the ludicrously cheap (20p) Star Ferry back across the harbour to Kowloon and were lucky enough to time it with sunset over Hong Kong Island.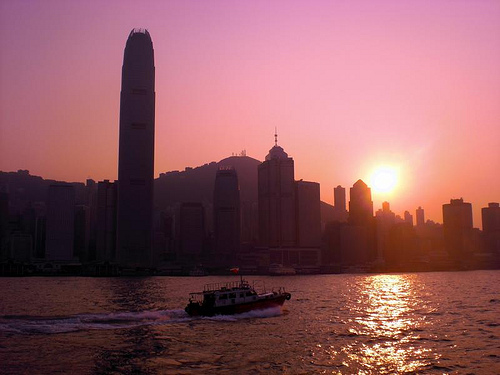 Back on Kowloon we took a stroll along the Avenue of the Stars. Ise put his hands in Jackie Chan's prints and we checked out local boy Bruce Lee's statue.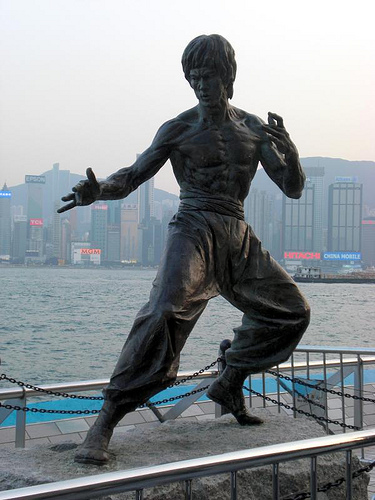 From the Avenue of the Stars, there is a spectacular (and free!) show called the Symphony of Lights, which has some pretty cheesy music, but is rather impressive other than that!
We walked home via the night market, which is full of a helluva lot of tat and plenty of guys accosting tourists with the words "copy watch, copy handbag?!"
On our last day in Hong Kong, we visited the Museum of History, which was free (as it was a Wednesday) and so interesting that we spent about 4 hours there! I was especially fascinated by the ceremonial and festival traditions, such as the "lighting lantern" ceremony, which happens each year, around the 12th day of the first Chinese lunar month in Chinese clan-based villages to welcome new male babies born in the last year to the clan. These boys are initiated and announced to the gods by hanging paper lanterns that are burnt on the 15th day in a "close lantern" ceremony. The oil lamps from the lanterns are enshrined in the family alters of the new parents and the paper from the lanterns is taken as a fertility charm by villagers who hope to have more sons.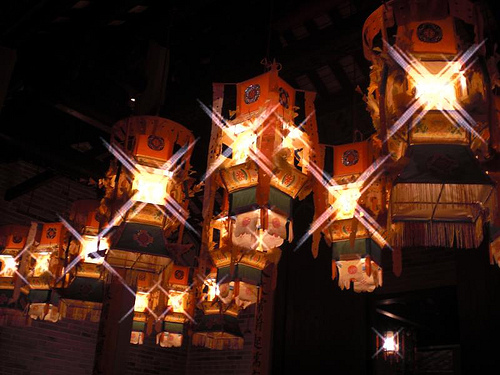 I also loved the elaborate rituals and customs associated with arranged marriages, including each set of parents writing to each other to confirm the compatibility of the couple and even taking astrological harmony into account before the match is confirmed – perhaps this is what's needed to avoid 60% of marriages ending in divorce?!
Much of our time in Hong Kong was spent walking around the city, soaking up the atmosphere and acclimatising to a place that is completely unlike any other.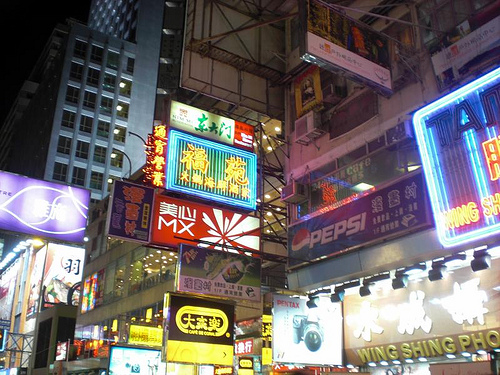 As always, more photos here
We're almost caught up with ourselves blog-wise now…
Love Gude x