Apologies for the delay between blogs. Both New Zealand and Australia have very limited (and expensive!) internet and wi-fi access, so although this entry has been written since just after Christmas, we've been unable to upload pictures and videos or to post it until now. I hope it's worth the wait..!
The Mauri (pronounced Mowdi here) story of where New Zealand came from is rather odd… Maui (a demi-god who started life as a miscarried foetus that was cared for by the sun, winds and guardian of the sea), was the youngest and most mischievous of 5 brothers. One day the brothers decided to go fishing, but they didn't want to take Maui because he liked to play tricks on them, so Maui hid in the bottom of their canoe until the brothers were out at sea. When he revealed himself, the brothers wanted to go back, but Maui chanted a magical prayer to stop the boat from reaching shore.
Maui's brothers began to catch fish, but refused to give Maui a hook, so he took the sacred jawbone of his grandmother and hit his own nose to use the blood as bait by smearing it on the jawbone. He threw this into the water and began to chant again. The sea rocked the boat violently and a huge fish came to the surface of the water, rising, stretching and expanding until the canoe was high and dry on its back.
Maui returned home to give thanks to the gods, leaving his brothers with strict instructions not to touch the fish, but as soon as he had left, the greedy brothers began to hack away at the fish, which, according to the legend is the reason that New Zealand is covered with so many mountains, cliffs, valleys and gorges.
The North Island does look a bit like a stingray, now that they mention it…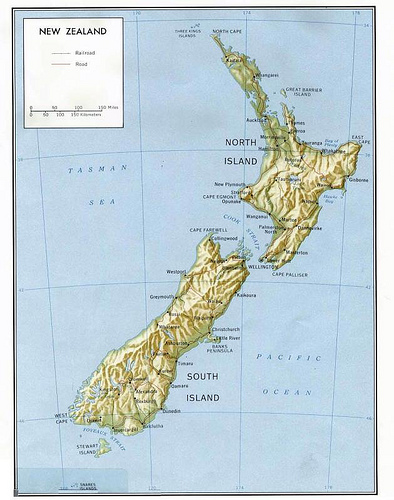 We heard this story at the National Maritime museum in Auckland, which had free entry in honour of the opening of a fascinating tribute exhibition for legendary yachtsman Sir Peter Blake, who died in 2001 when he was shot by intruders aboard his boat on the Amazon while defending his crew.
At the National Wartime museum, we saw a Mauri cultural performance, which included the famous (and rather intimidating) haka 'Ka Mate', as performed by the All Blacks.
There were also some songs and demonstrations of Mauri weapons. My favourite was this enormous tattooed fellow, who was really friendly, but also the scariest guy in the haka!
We took a guided tour around the museum, because it was a little overwhelming and we really wanted to get the most out of our visit. One of my favourite stories was of the Huia birds (sadly now thought to be extinct), who worked as a team in order to find food. The male has a shorter, hard beak, which he used to make a hole in tree bark and the female has a long thin beak, which she used to pull juicy grubs from the hole that the male had made – clever birdies…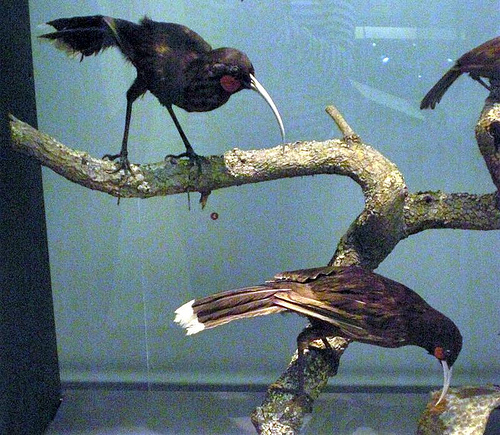 After a few days in Auckland, we set off on our road trip South to meet up with Jay and Tina in Christchurch, where we visited the beautiful botanical gardens and played the best "adventure" crazy golf course I have ever seen. It had the full 18 holes with all kinds of flashing lights, smoke and sound effects and miniature obstacles including mountains, rivers, buildings, tubes, a roller coaster and even a gondola (cable car) to negotiate! I was pretty abysmal, ending well over par, but had a great time anyway (the Gool won on the last hole, just beating Jay by a single stroke). Here's Tina demonstrating the gondola.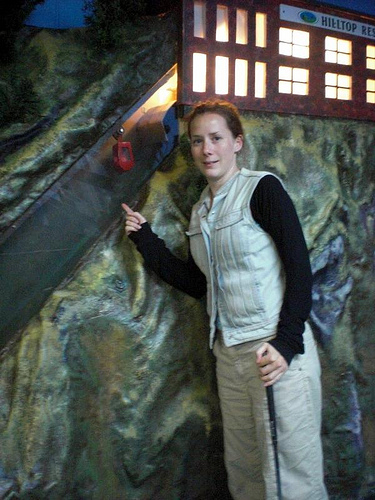 On the way to Wanaka for Christmas, we met this friendly Kea (native giant parrot) at a roadside café. I went to say hello and he decided that my finger might be worth a chew. Luckily it didn't really hurt and he was so cute that I forgave him…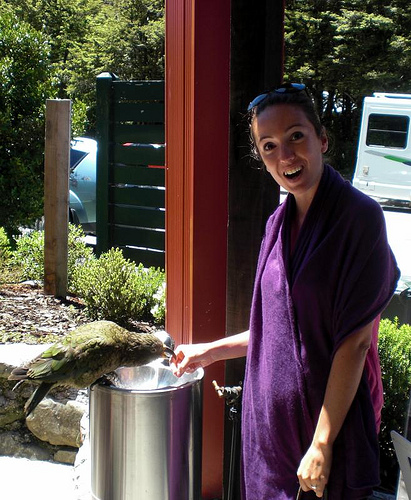 We stopped off at Franz Josef and Fox to see the glaciers, which were pretty amazing and really look like they shouldn't be possible, especially when the sun is shining and it's rather warm…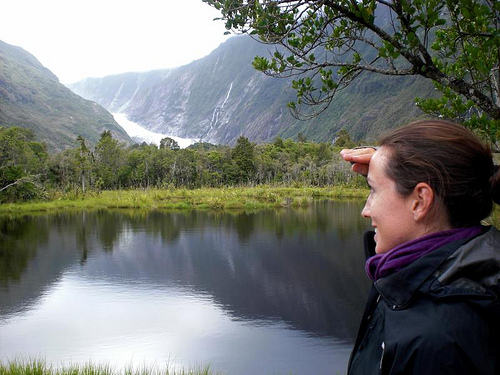 In Queenstown we tried the famous 'Fergburger', which is both enormous and delicious. Here's The Gool demonstrating how to eat one…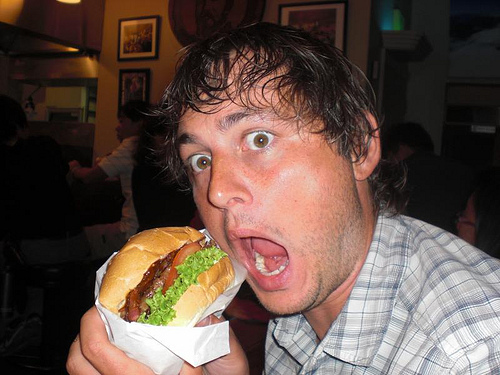 We arrived in Wanaka the day before Christmas Eve and were joined the next day by Mat, who quickly joined us in the hot tub, overlooking the lake and mountains. Despite being as far from home as we could possibly get, we were able to celebrate with traditional Christmas turkey dinner, along with a delicious ham (free with the house hire) and Ise did a sterling job carving up our enormous 5.25kg bird.
2pm Christmas Day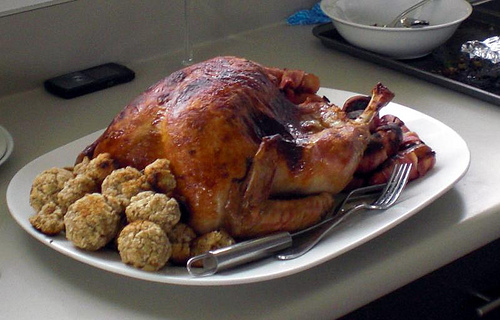 6pm Boxing Day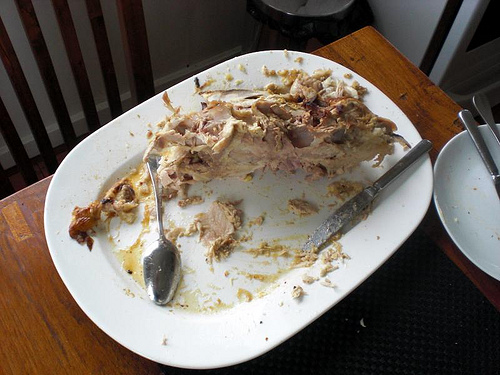 Here we all are tucking into our Christmas day lunch (not sure why the gravy got pole position)…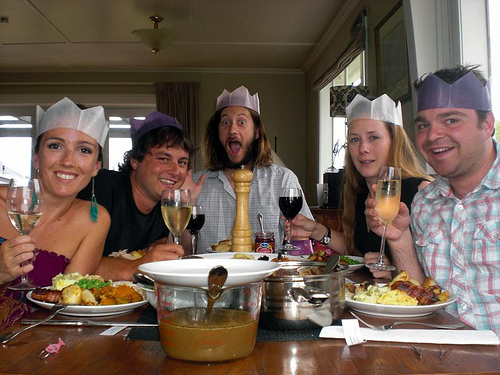 After lunch it was time for Secret Santa's pressies to be opened. Jay was pleased with his 'Jay Guevara' mug, though whoever got Mat his 3D TetrisTM cube puzzle has been dubbed Fiendish Santa, because not one of us could complete it in 2 days!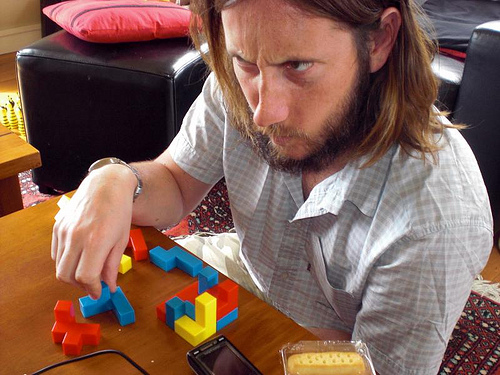 On Boxing Day we visited Wanaka's famous Puzzling World (huge thanks to Steve and Lou who funded our trip as a Christmas present). We had a fantastic time pushing over the 'leaning tower of Wanaka' outside and spent over an hour in the maze trying to beat each other to the four corners and then back to the start. It was a great maze because the secret* doesn't work with it (you have to find the coloured corners in a particular order) and it uses bridges and stairways over 2 levels. Once on the bridges, you can see some of the maze, but not enough to let you work it out because there are also lots of parts hidden underneath where you're standing. It's VERY frustrating, but lots of fun.
Puzzling World also has a room full of puzzles on tables (not as difficult as 3D Tetris!) to play with, another room of clever holograms, lots of optical illusions, including concave famous faces which look convex and seem to follow you around the room if you look at them with one eye closed. One of our favourite bits was the Ames room, which uses perspective and clever backgrounds to give the visual effect of making a person smaller or larger, depending upon where in the room they are standing. This effect was used in the Lord of the Rings sets to make Frodo and the other Hobbits appear small and Gandalf appear super tall. Here's a picture of giant me scaring a tiny Ise.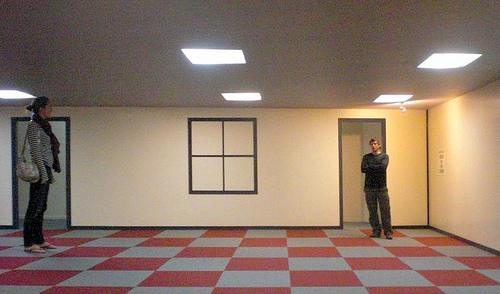 Finally, there was a room which messes up your balance and features a constantly running tap, where the water seems to flow upwards, a pool table where the ball appears to roll uphill and a place where you can take a photo standing straight, but looking as if you are leaning (see other pics). It made our brains hurt, but we loved Puzzling World!
Unfortunately, Mat and Ise were unable to do the skydive they had planned for Boxing Day due to bad weather but Ise did manage to do the highest bungy jump in New Zealand before we caught our flight back to Auckland. Here's a video of his lunacy…
A massive thank you to Jay, Tina and Mat for keeping me distracted from getting too homesick over Christmas and for all the fun and games we had (especially add-a-rule poo-head, which I am now going to play whenever I get the chance). We had a marvellous time with you guys.
Also a very big thank you to the Adairs, who looked after us at Clarkes Beach for the last few days before we flew to Sydney for New Year's Eve. Heather cooked us the most amazing food, including melt in your mouth, cuts-like-butter steak and proper sausages (which we hadn't had for 6 and a half months)! A special mention also to Mike and his friends who kept us hugely entertained, taking Tina and Mat's poo-head game to extreme levels by introducing frat-boy-style forfeits – genius.
Happy New Year!
Love Gude x
*WARNING: don't click on the link unless you want most mazes to be no fun ever again!