We got to Merida in the early hours of Saturday morning, shattered and decided to nap on a couple of benches in a pretty square near this old church.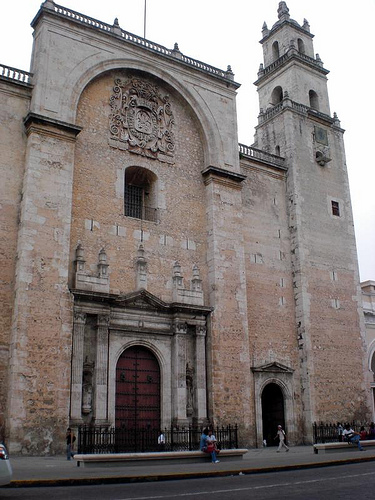 Unfortunately there were some particularly vicious mosquitos there and we both got bitten all over. My fingers swelled up so much that I had to wear my wedding ring on the wrong hand for the next few days. We got another bus to Chichen Itza as soon as we could and got there in time for the sound and light show that evening, which was very pretty. The next day I was a bit fed up because of my bites and I was missing home and Cristina especially, but then I opened my water bottle (bought at the little counter at the entrance to the site of Chichen Itza) and look what was in the lid of it!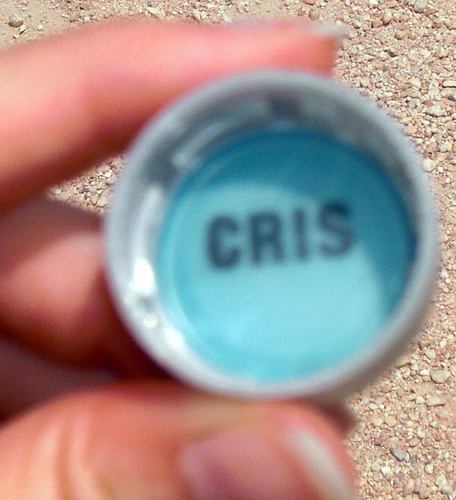 I have no explanation as to why it had her name written there (with the right spelling too), but it cheered me up alot. We looked around the ruins, without a guide this time and we saw the huge pyramid (which, like Palenque, has a special effect at summer solstice – the sunshine appears to creep down and then up the steps on the left hand side, ending at the huge snake's head at the bottom, seeming to the ancient Mayans (or at least to the masses), that the snake-god had come down and was with them on that special day.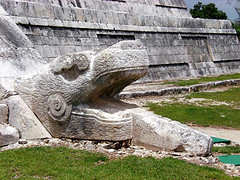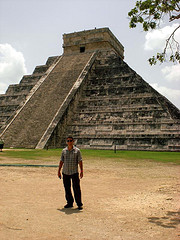 We also saw the cenote (a huge water hole, pronounced senotay) where apparently human sacrifices were made to the gods (i.e. they threw people into it as offerings in exchange for a good corn crop) and the ball court, which is the largest in all of the known Mayan ruins – kind of like the Wembley of the Yucatan! You remember I told you that the holes that the balls had to go through were relatively small? Well the ones at Chichen Itza are still intact, so I got a picture. You can see two inter-twining snakes decorating it.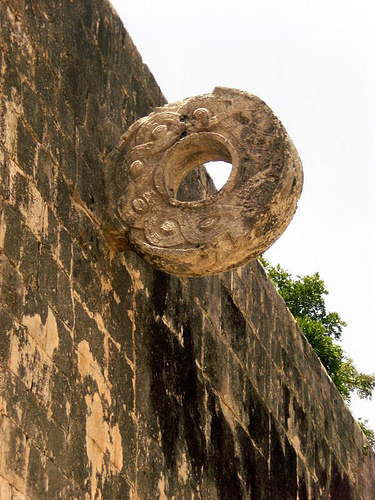 After Chichen Itza we got on (yet another) bus, but this time to the beach at Tulum – it's where the Pink Panther comes from (Tulum, Tulum – think about it…) ;o) Anyway, we'd both been looking forward to the beach very much and you can imagine how excited we were when we saw this: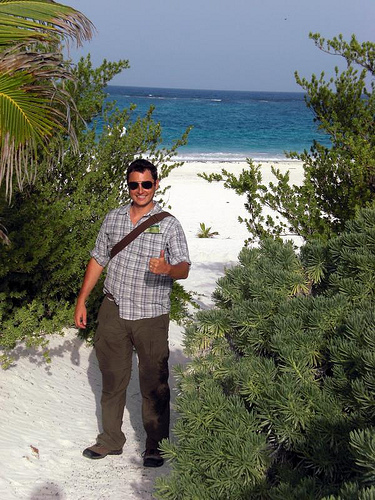 It really is like the kind of beach a child would draw – all perfect palm trees, bright blue sky with no clouds, turquoise warm sea (really Dad, it's like a bath, it is that warm – you would love it), white powdery sand and there are even roped off bits where the turtles have laid their eggs, so you don't step on them by accident! There are bright yellow butterflies flapping about, the most enormous lizards, like baby dinosaurs (Ise has pics on his camera, but hasn't uploaded them yet) and this evening our waiter brought us a little crab (see pics here). The bar has swings instead of bar stools and there are big double beds suspended from a platform on ropes, so you can swing underneath in the shade together until the heat of the midday is over. There are mosquitos here too, but we're coping, as everything else is so fantastic. We're going to stay here for the rest of the week!
Love Gude x
P.S. I found another LOLCAT here
"ME HAZ ETID UR MOUSE, NOW I CAN HAZ SLEEPZ"