"…A new job!"
Well, that would be top of my list if I had to spend 10-14 hours a day in the hot (up to 45oC), dark, dusty airless tunnels chipping, packing, exploding, sorting and shifting heavy rocks and minerals. Also on my list for Santa would be: a professional massage (to ease away the back ache from crouching and bending all day), some jasmine scented bath oil (to wash away the grime and stink of hard graft) and some decent protective hand cream (the dust and rocks are very drying and chafing).
Do the miners of Potosi have the same sort of ideas as me..?
Not exactly.
Their wish list consists of:
– Dynamite
– Chemicals to make the dynamite explosion more effective
– Fuses
– Fizzy drinks
– Coca leaves & some kind of black stuff that increases their effect
– Cigarettes
This was what our guide (and ex-miner) Ronaldo, suggested we buy as gifts when we stopped at the market on the way to the mine last Wednesday morning.
Our tour began with us all getting kitted out in welly boots, protective over-clothing (one size, fits none), bandanna-style scarves (to stop us breathing in too much dust) hard hats and torches. We looked suitably silly as you can see here: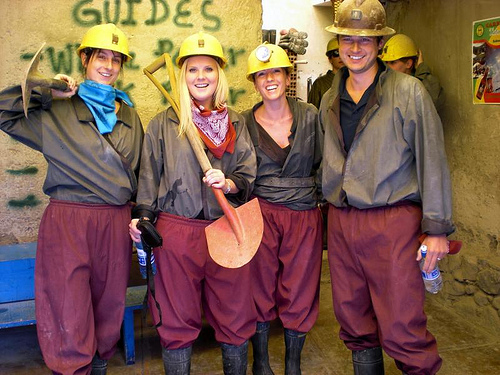 We were split into smaller groups and our guide asked how everyone was feeling – any altitude sickness, claustrophobia, asthma etc. Luckily we were feeling pretty good (at that point!), so our guide took us off to market to buy our goodies for the miners. A "blowing-up" kit of dynamite, explosive accelerator and fuse costs just £2.00 and anyone can buy it. Our group bought a kit for the miners and another for ourselves to blow up at the end of the tour. Ronaldo passed round some insanely strong alcohol (96%) that the miners drink a little of before starting work for the day and also offer to "El Diablo" so that they will find plenty of minerals in the mines. The believe the purer the alcohol, the better the offering to the devil of the mine. In the days of the Spanish, Potosi was a mainly silver mine, but they took virtually all of it so now it produces mainly tin and more recently zinc. Ise was keen to try some of the alcohol, but didn't enjoy it as much as the local beer…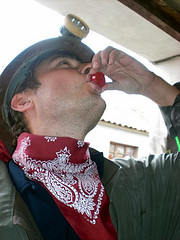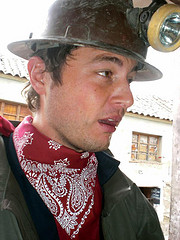 Once we'd done our shopping, we set off for the mine in a minibus, chewing coca leaves (to give us energy and to help those suffering from mild altitude sickness) and clutching plastic bags of rola cola (Peter Kaye fans will know what I'm talking about…) and dynamite. When we arrived, Ronaldo showed us around the mineral processing plant, which was full of dangerous chemicals and wobbly floorboards (health and safety again sorely lacking), then finally it was time to go down into the mine.
The two hours we spent in the mine were pretty awful from start to finish and really made me appreciate just how easy my office job is. Almost as soon as we started walking into the mine, it became hard to breathe. We were bent over, avoiding low ceiling beams and the dust managed to quickly work its way into our mouths, noses and throats despite the scarves covering our faces. Once we'd gone in a little way, Ronaldo let us catch our breath and told us about the long hours that the miners work and that they are not expected to live past their mid-fifties because most develop horrible respiratory diseases like "black lung" or cancer.
After a short rest, we went deeper into the mine, crouching or crawling through rubble and dust in confined spaces. I found it much harder to breathe while crouching and had to stand, or stretch out as often as I could in order to suck in enough oxygen to continue. We all agreed that we couldn't have done it if it weren't for the coca leaves.
We got to meet some of the miners and Ronaldo handed out our gifts to them (they seemed particularly pleased with the fizzy drinks – maybe it combats the horrible dry throats caused by the dust) and got to see them hard at work shifting the minerals.
Near the end of the mine tour Ronaldo showed us "El Diablo", the devil of the mines, surrounded by empty bottles of 96% alcohol, representing fertility (as you can see from the picture below)!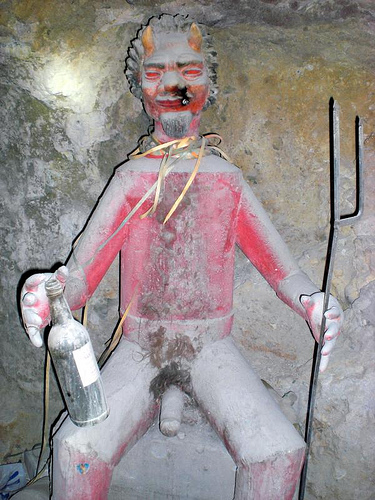 Finally, after what felt like days, we emerged, blinking and grinning into the sunshine and fresh air like skinny, bald, coca-chewing moles and it felt amazing. I can't imagine going down there ever again, let alone for over 10 hours each and every day for the rest of my life. Those guys have one of the hardest and most dangerous jobs in the world and they have all my respect.
Last but not least, Ronaldo set up our dynamite and explosive stuff with a fuse and lit it for us to pass around (the fuse lasts for about 3 minutes) before running off with it into a patch of scrub, while we waited with our cameras to film the explosions, with mounting anticipation and nerves…
Before Potosi, we spent a couple of days in Sucre, a lovely old Colonial town. There's not much to do in Sucre, but we did visit the wonderfully tacky Parque Cretacico, which is half an hour away on the "Dino bus"!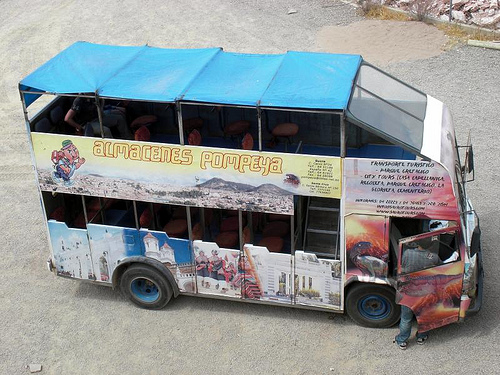 There have been more than 5000 dinosaur tracks found at the cliff-face of the cement factory outside Sucre. These 68 million year-old tracks include a 581 metre long track made by a small dinosaur that walked on his hind legs and was nicknamed "Johnny Walker" by the archaeologists that studied the tracks. There are also tracks made by 20 metre long Sauropods (like diplodocuses and brontosauruses), ornithopods (bird-like dinosaurs) and anchilosaurs (spiky dinosaurs with armadillo-like scales).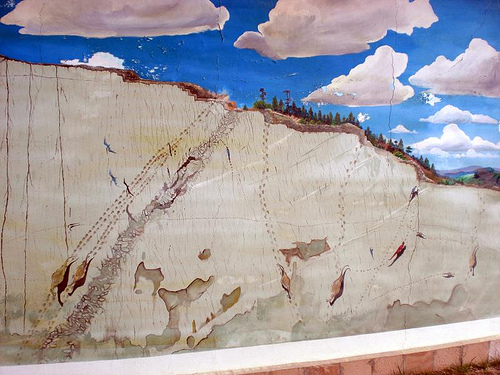 We weren't allowed to get up close to the footprints, but we could take photos from a distance and our guide showed us around the park, telling us about how the tracks have survived through time while life-size model dinosaurs roared and screeched at us. Ise made friends with a couple of them…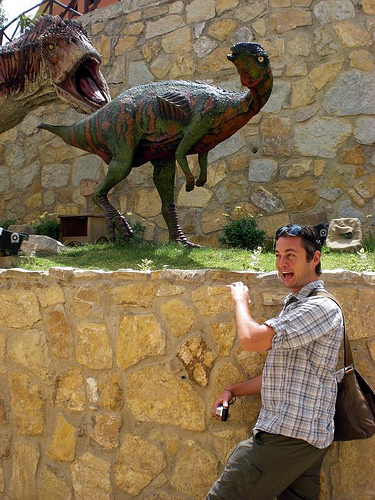 As usual, more pictures here.
Love Gude x