This was Cristian Castro's philosophy, our 4×4 driver and guide to the Uyuni salt flats. It became our motto for Bolivia.
We started our tour of Uyuni on a crisp Friday morning; 8 of us in a Toyota Landcruiser (Cristian, his girlfriend – our cook, an Auzzie couple – Laura and Alex, their friend Seb, a Japanese girl called Megumi, Ise and I). First stop was the "train graveyard", where 100-year old decommissioned trains lie rusting in the desert.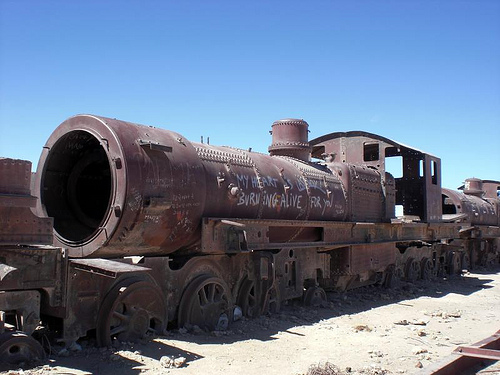 After that, we headed into the salt flats, which are most surreal – huge expanses of blinding white salt, crystallised into hexagons, where you can play camera tricks with the perspective.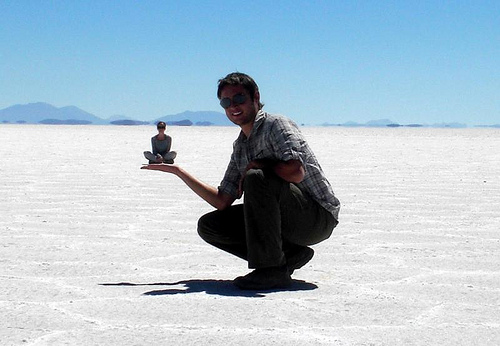 In the middle of the salt flats, is cactus island, boasting a really tall and a really old (and decrepit looking) cactus, as well as a coral archway, which really helped us to imagine the whole place covered with sea millions of years ago.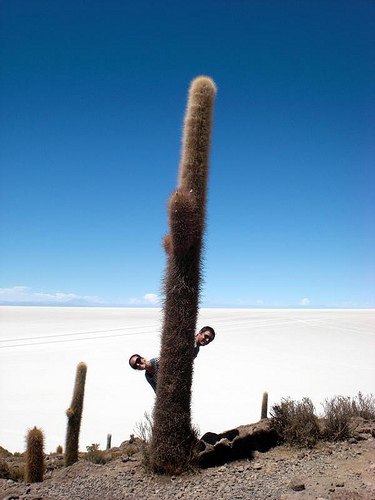 The second day of the trip was mostly lagoons; flamenco (flamingo) lagoon, the Laguna Colorado, which was really beautiful (unusually red, due to the algae), but freezing cold and the green lagoon, which looked enticing, but had no wildlife, as it contains arsenic!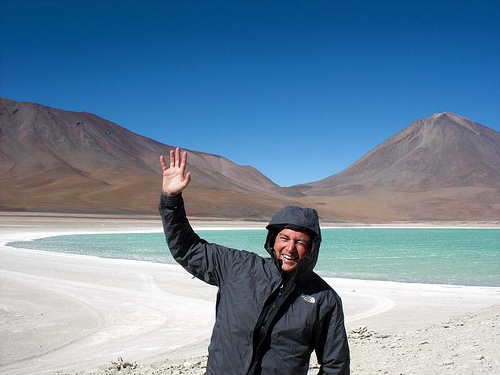 We also stopped at some pretty cool rock formations which looked like; a pregnant lady, an old man's face, an Inca and a tree. On our way to that night's accommodation, Seb asked Cristian if it would be possible to buy some beers at the hostal/shack/barn. Our guide's reply? See blog title. Luckily, on this occasion there were beers and even hot spiced wine, which tasted like Christmas and warmed us all up immensely as the temperature dropped dramatically after dark.
On the third and final day we got up insanely early to see geysers shooting up from the ground (apparently the cold of the early morning, -2oc, sets them off) and bubbling mud pools that were, by contrast 95 degrees c.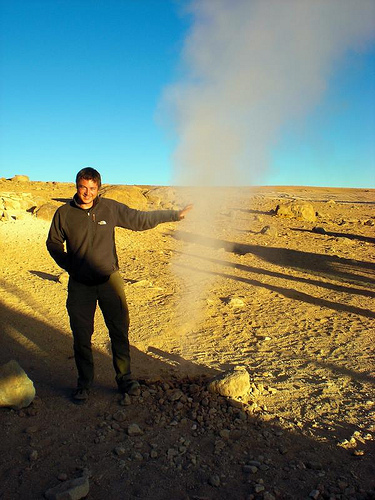 Seb and Alex were brave (or stupid?) enough to go for a dip in the hot water pools near the geysers, which while cosy and warm once they were in the water, meant stripping down to swimming trunks and plucking up the courage to get out again into the freezing temperatures for breakfast..!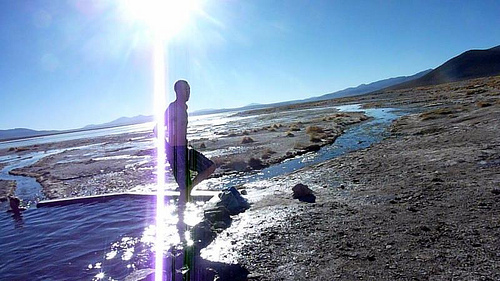 On the last day we also drove through the "Dali desert", a desert with just a few randomly placed rocks, with a mountain backdrop. If we hadn't been so cold, we might have been clever enough to try and do a melting picture here.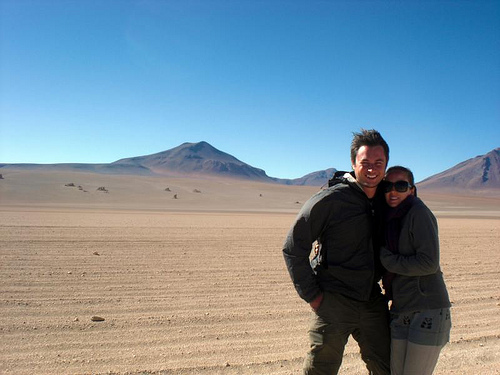 I didn't enjoy the Salar trip as much as Ise, because I didn't feel at all well; starting with a sore throat on Friday, developing into a head/eye ache, exhaustion and enough snot to make me look and sound like Mrs F.T. Bogeyman. The severe cold and biting winds of the second and third days, early starts (5am!) and lack of facilities (no hot water, or heating) didn't help matters and meant that I was much happier staying in the jeep and looking out of the window than getting out to explore. Luckily, I could see pretty much everything from the relative comfort of the backseat and just had to get out for the occasional photo. More of those here
10 things we found to be true in Bolivia
1. Everything comes with chips. Including soup. Actually IN the soup.
2. There's always something fluffy and long-necked trying to cross the road; vicunas, alpacas, llamas…
3. Toilets do not have toilet paper. Or soap. And it will cost you anywhere from 10-50p for a wee.
4. Toilets on buses are usually locked, for no apparent reason.
5. Every plug socket sparks dangerously.
6. Bolivians love a protest – bus travel is frequently cancelled or delayed because of blockading farmers and families.
7. If a Bolivian can help you, they generally will. Even if they can't speak any English and they don't understand your limited Spanglish.
8. No one in the whole country has any change.
9. Everything in Bolivia can be suffixed "of death", be it showers, electrical fittings, roads, buses etc.
10. Whoever the black-market bowler hat seller is (we didn't see any being sold), he's raking it in.
UPDATE: We did a bit more research into the origin of the bowler hats and it seems nobody really knows where they came from, although the most favoured explanation is that British railway workers introduced them in the 1920s. Here's a video with a bit more information, the local ladies take them very seriously indeed.