We've been staying in Lanquin for a few nights now, after a 9 hour journey by ancient minibus from Flores, involving us crossing a river on a makeshift ferry (see pic below) and a 40 minute delay while we waited for half the village to help another ancient minibus out of the roadside ditch opposite. We're staying in a nice place called Retiro, right by the Cahabon river, full of other travellers and they do a big buffet-style dinner every evening for £4 /£5 depending on whether you have the veggie option (I did the first night, as the "meat" was fish). Last night I had roast chicken with all the veggies, including 3 types of potato (sweet, mashed and new, crushed) – the food here is really tasty and healthy, but it wasn't as nice as either of our mum's roast dinners, of course!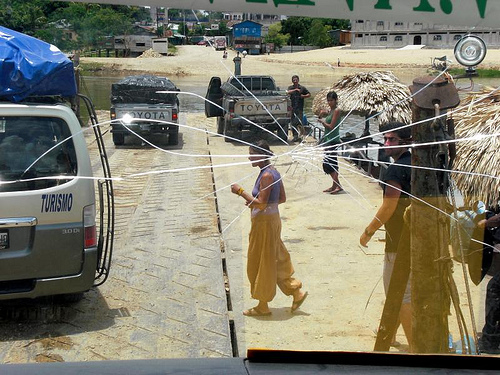 Poor Ise was ill last night and I was really worried about him, because he couldn't face food at all (very rare for him!). He went to bed with a temperature, lots of water and some ibuprofen and this morning his temperature has gone right down and he's managed a bit of breakfast, so we're just having a quiet day, letting him recuperate (he's asleep in the hammock at the moment)…
On Saturday night we went up to the Lanquin caves, home to thousands of bats who all come flying out together in the evening. It takes about an hour for all the bats to leave the caves and it's quite a sight!
Our guide decided to take us on the scenic route of the caves – off the beaten track (i.e. walkways with ropes) and down some slippery rocks to see the underground river and a cavern with stalactites in. It wasn't really the leisurely evening stroll that we'd been expecting – more like rock climbing/bouldering with 3 torches between 8 of us and most of the girls weren't too keen. There was a big climb over a sharp drop at one point and the guide had to take one of our group back – it was just too scary. The rest of us made it (just about!) and then he took us back on the official roped walkways to see the rock formations that look like other things. There was a Madonna & child (isn't there always?), a tiger, a femur and more. I spotted a formation that looked like a seal and another that looked just like a stack of pancakes, but clearly the Guatemalans didn't agree with me, as they weren't officially signed.
At 18.20, the bats started to fly all around us and I even managed to get this picture of Ise with one flying right past his head. Unsurprisingly, there were no mosquitoes in the caves!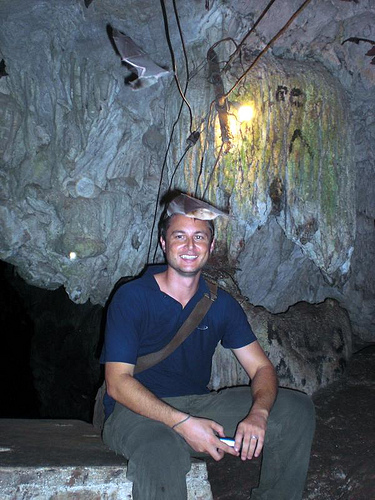 Yesterday we went up to Semuc Champey (about 10k from here) for an action-packed day. When we arrived at the centre, our guide told us to get into bikinis/trunks and walking shoes and then our first (optional) activity was to jump into the middle of the river from a swing. We both did it and it was fun, though so cold it took my breath away and I almost lost my bikini top too! Then our guide took us to the caves (different to the bat caves) and handed out candles to everyone. We went about 100m into the cave system, though it felt further, mostly at least ankle-deep in water, sometimes swimming out of our depth, one-handed (as we had to keep the candles out of the water), up and down rope ladders and through small spaces in the rocks. There were places that you could jump into pools from the top of high rocks and a place where you could climb up a rope, into the current of a waterfall to get to the top (Ise did both, while I was trying to dry off and warm up a bit) – Matt & Sophie, we thought it was right up your street! It was very pretty seeing all the stalactites by candle-light and also a bit eerie if you lost sight of the main group and ended up in chamber on your own with just a candle for company.
After the caves we went tubing (floating down the river in giant rubber rings) for 10 mins, until the current took us to a bridge, which we could jump off if we wanted to. The bridge was 10m high and one guy did it with a forward flip on the way down – what a show off! Neither of us jumped from the bridge – Ise wishes he had, but I'm happy he didn't, what with his accident record! Then our guide took us to the pools at Semuc Champey – we climbed up a slippery, rocky hill (with Howler monkeys heckling us and squelchy, gritty shoes from the cave expedition) for about 25 minutes until we got to Mirador (Look-out) at the top, with a beautiful view over the pools below.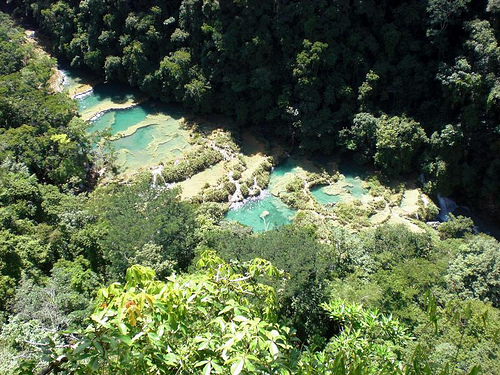 At this point we all wanted to be down in the pools with the other swimmers and I really think the Guatemalans should build a big lazy-river flume, through the jungle, down to the pools below. We had to walk down, but it was lovely once we were there to have a good splash about in the cool, clear water. There were little fishies in there that nibbled our feet and legs as soon as we stood still – they didn't hurt, but they did tickle a lot!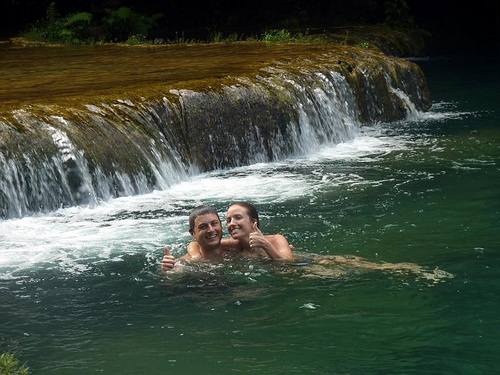 We were so worn out at the end of the day that we decided to stay another night here, just so we wouldn't have to get up for the 8am bus. There's a USA buffet tonight, including meatloaf and macaroni cheese – YUM!
Found another LOLCAT here too:
THIS IZ MA SEAT, U ONLY HAZ IT WHEN I SAYZ SO!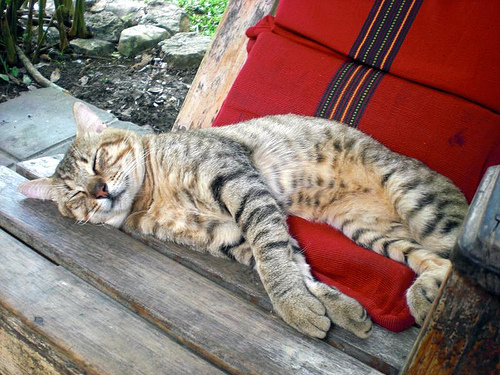 Today I'm loving:
– buffet dinners
– rope swings
– crystal clear water
– warm Gool hugs in cold caves
Today I'm missing:
– toast (they've run out of bread!)
– a toilet I don't have to get dressed to go to
– dry shoes
More pics here
Love Gude x
P.S. Update from the Gool – if you've been trying to subscribe to the blog and failed thus far, he's now fixed the bug, so please try again. Huge thanks!