Yesterday we went to Tikal, which meant another hideously early start (4.30am alarm to catch a 5am minibus), but it was well worth it. On the road to Tikal, we saw ocellated turkeys (a cross between a peacock and a turkey) and pacas (very cute rainforest rodents – Duncan, you would like them!) at the side of the road. There was even a sign saying "Jaguar crossing", but unfortunately we didn't get to see any of those shy, nocturnal creatures. We got to the entrance just before it opened at 6am and then took a 4 hour guided tour around the site. Tikal is another Mayan ruin, similar to Palenque and Chichen Itza, but it's my favourite of the three because it's set in the Guatemalan rainforest, which meant, though humid, walking between temples was in the shade of amazing trees and bushes, we could climb on almost all of the ruins and there were lots of animals to see.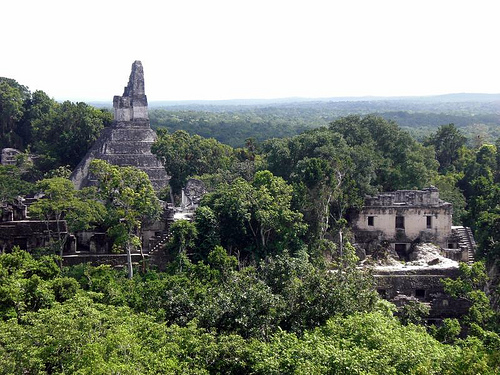 We saw green parrots and our guide passed a tarantula around the group, which Ise held for a few minutes, until it took a liking to him and started to crawl up his arm! It had been quite dozy up until that point, but there was obviously something about Ise that perked up the fuzzy spid…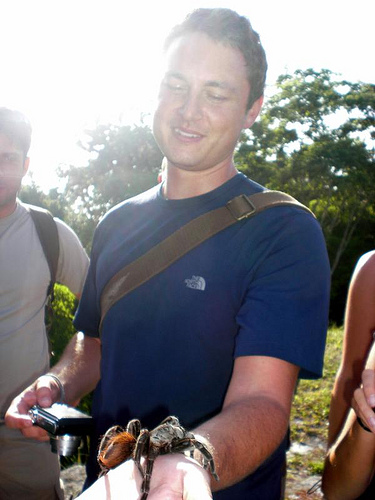 We got to see 2 types of monkey at Tikal – the Spider monkeys (much cuter than tarantulas) and Howler monkeys, which although they also looked cuddly, made a terrible noise, like some kind of prehistoric monster was about to come crashing out of the jungle and eat us. Honestly, I am sure it's where they got the idea for the invisible monster in "Lost" from!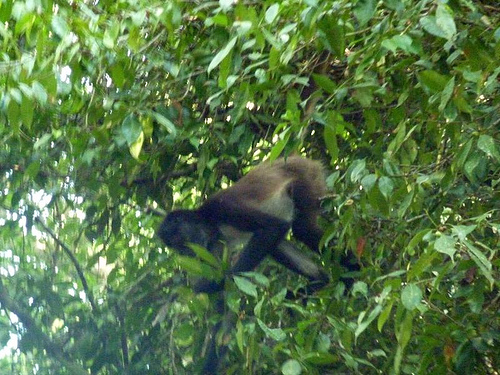 Temple V gave us the best view over the jungle and the other (high) ruins, but we had to climb 105 ladder-like steps to get to the top. One poor French toddler had made it to the top on his own, but then couldn't face going down – his Dad had to grab him and carry him down over his shoulder, which I think was worse, as the boy then had a view of the potential fall all the way down!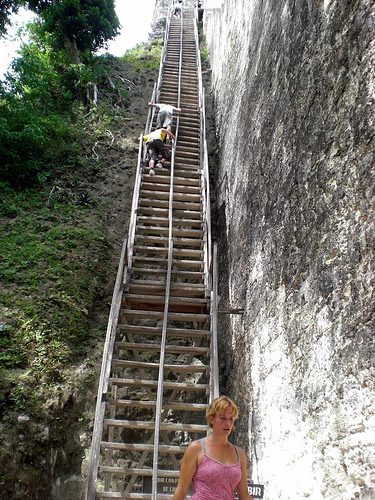 I'd have loved to have seen some Toucans as well (we heard some – they sound like frogs), but the closest we got to seeing one was back at the souvenir shop – shame…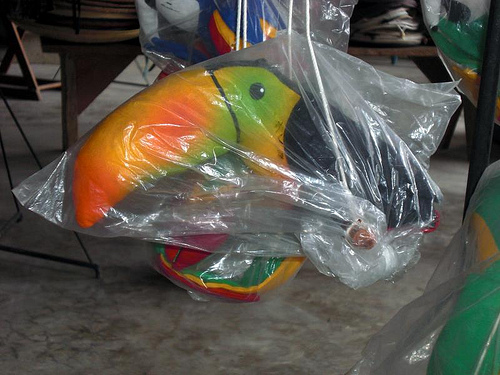 Today we're just chilling out, Ise is in a hammock on the roof of our hotel, reading his book and I am using the free wi-fi while checking out the view of the gorgeous lake here which surrounds Flores…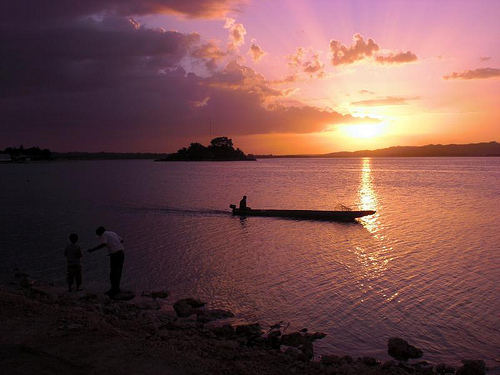 More pics here and more news soon,
Love Gude x