We were in Mexico City for 3 nights (Wednesday – Saturday). Two nights would have been enough for us (it's a big, slightly grubby city and we weren't particularly enamoured with it), but when we went to catch the bus to San Cristobal de las casas on Friday night, they were all full, so we had to wait until Saturday. We did find a nice restaurant in Mexico City, just around the corner from our hotel – we just wandered into what looked like someone's backyard, because there was an amazing smell wafting out. They have this set-up where you help yourself to salad and pudding, buffet style, but the big chunks of meat, sausages and chorizo are brought to you marinated and only partially cooked and placed on a cooking plate in the middle of your table, which rests atop an open metal box of hot coals. You finish the cooking to the level you want, poking it around while drooling. They just keep bringing out meat until you tell them to stop. And the beer is the same price as the water. As you can imagine, The Gool was a happy man!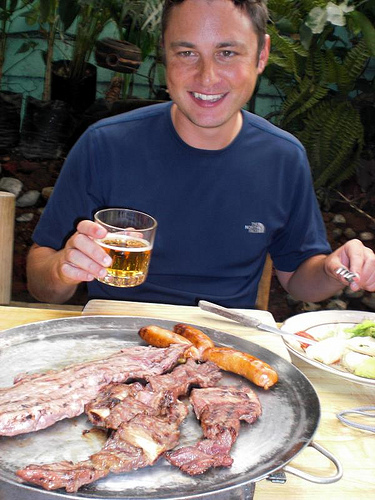 We had a walk around Mexico City and saw some fun art installations on the way to the park (which was shut – at 5pm!). There were a lot of novelty chairs and benches along one particular street, which made us smile, including a kind of semi-circular or half-pipe one that two people can lie on together. There were also colourful and unusually painted animals (lots of big cats and rhinos and birds) – you can see more pictures here. Ise particularly liked the "Rhino-marimba", but these kids wouldn't let him have a go.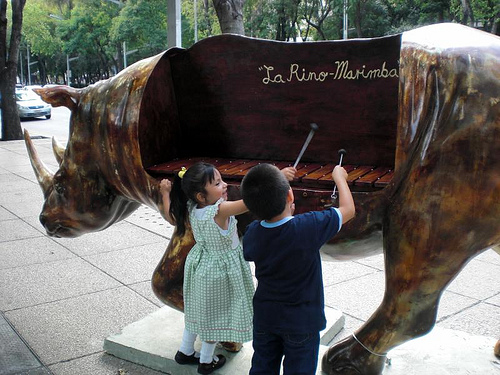 I liked the whale in the bathtub – there was also a disco one of these, covered in tiny mirrors – very camp.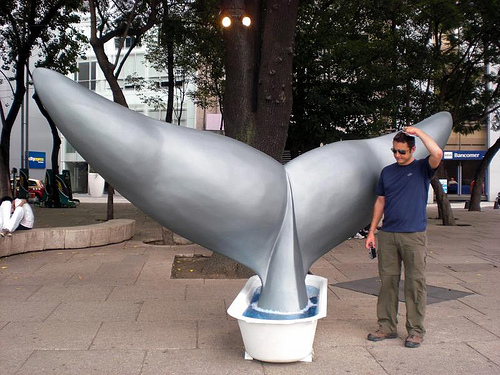 We went to Garibaldi square one evening, which is where the mariachi bands play (if you pay them to!). Ise had a margarita and we started to watch a show in one of the bars, but it was pretty dreadful – the singing, dancing and music! We were glad we hadn't paid the cover charge. We only stayed for one drink, then left – it was all a bit too touristy really…
We're now in San Cristobal de las casas, which is a very pretty little town – lots of highly decorated churches and some nice restaurants. We're staying in another hacienda-style guest house, perched on the edge of a mountain and our room overlooks the town. It's cold here in the mountains though, I've been wearing my thermals and last night we had a fire (fuego) in our room, which was nice and cosy. The guy who came to light it (twice) didn't seem to be an expert though, as it kept going out. Ise finally managed to get it going from the embers the third time!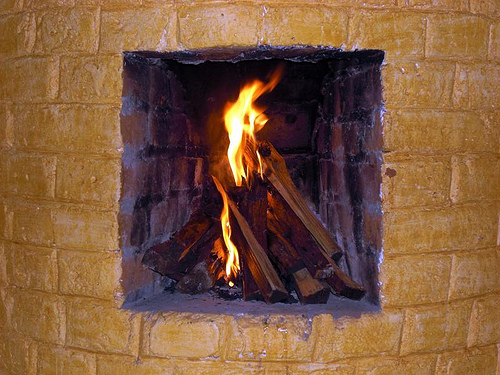 Last night I had the best hot chocolate (chocolata caliente) of the trip so far – it was slightly bitter and milky with cinnamon in it – perfect.
This morning we went with a guide to see some of the Mayan villages around San Cristobal. It was really interesting to see the differences and similarities not just between the people of San Cristobal and the Mayans, but also between the Maya villages themselves. The Maya people dress quite distinctively, the women with dark, thick wool skirts, but they have started to wear more fashionable tops and change the colours of the embroidery on their shawls to reflect the season's fashion. The people from different villages have a distinctive style of dress so that apparently you can tell from looking at them where they come from. We visited a couple of churches (where the local people practice their own kind of Catholicism) and the guide told us that the different candles represent the four colours of corn and they are used for four different kinds of prayers; white as an offering to the saints, black (or blue) for the dead, yellow for material things and red to prevent accident/injury.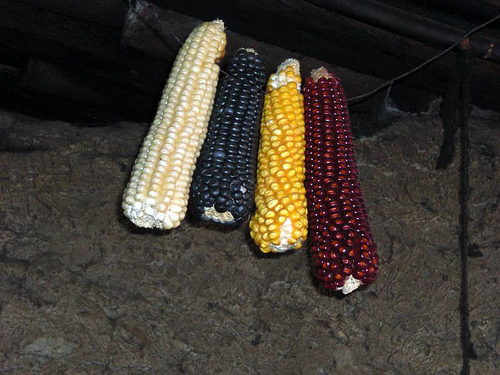 The first church we went into was pretty busy, with people lighting candles and praying, a proper oom-pah band, pine needles all over the floor (as protection against evil spirits) and medicine men and women "healing" other people by waving herbs, eggs and/or chickens over them and then wringing their necks (the chickens, not the people being healed)! It's certainly a strange sight to see in what looks otherwise very much like a traditional Catholic church. The guide told us that the Mayan people have changed a lot over the past 50 years and that TV has encouraged a lot of change, but that also some things have stayed, or even returned to the traditional way, particularly as they realised this encouraged tourism (i.e. more money for them). Some things have been adopted into the village way of life. Fizzy drinks for example (sodas), are brought to church to share with the community and offered to the dead on all-saints fiesta. Dentists only came to live in the villages after fizzy drinks had been introduced – they weren't needed before then. You can see the influence of companies like Coke and Pepsi everywhere, from branding on the plastic café chairs and awnings to sponsoring basketball courts outside schools…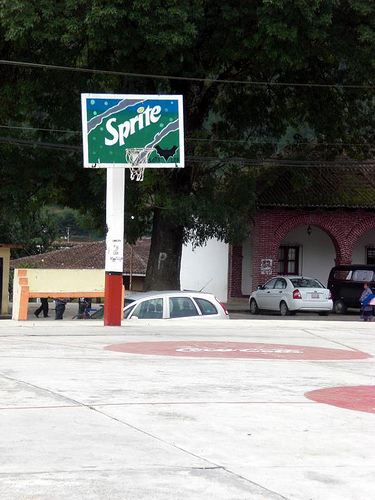 Tomorrow we might visit the Mayan medicine museum before we get on another bus to Palenque. Another update soon (apparently there is WiFi in the jungle)?!
Love Gude x