Vegas has grown on me a little – largely due to our stay at the Bellagio (thank you Georgie and Charlie!), which is just fabulous. I've been making full use of all the toiletries, Ise has had a professional shave at the barbers, we've been enjoying cocktails round the pool and some fabulous food, not to mention the view of the fountains from our bedroom window..!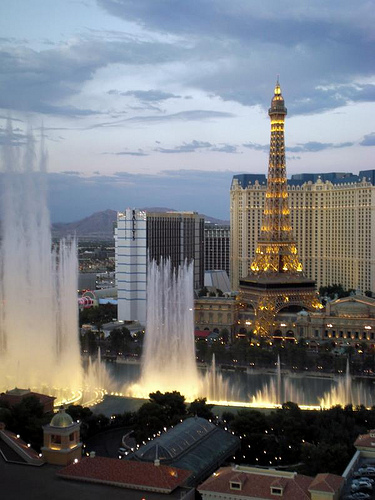 Kit's gone home now, having done very well on the roulette table! Even I managed to win about $75 last night and quit while I was ahead. Last night we had an amazing dinner at one of the Bellagio restaurants (Olives) and also tried some cocktails. Kit had a strawberry shortcake one, I had a cucumber one (very refreshing) and Ise had a caramel one, which was too sickly sweet for me, but he loved it.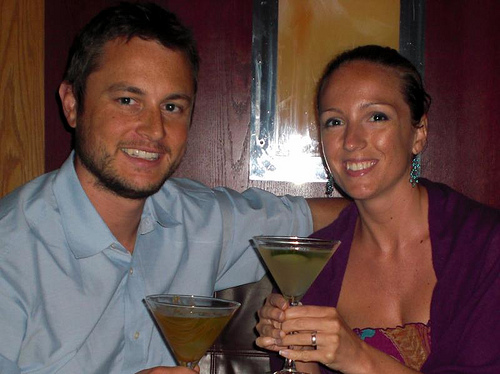 Today we've mostly been lounging poolside, reading and people-watching. Tonight we had dinner at the buffet, which is quite spectacular – every kind of seafood you can think of, fish, sushi, a full carvery, veal, enormous salad section, chinese food, pastas of all kinds and a dessert section that was (almost) as good as the one at Paul and Mel's wedding… Definitely a good deal for The Gool!
Back to the real world of motels tomorrow as we head for the border…
Today I've been missing:
– The girls
– The GBs
– Proper English tea
And loving:
– A luxurious bed
– Sunshine
– Unlimited lie-ins
– Soft water (my hair feels lovely)
– Ramdom chats with Italian New-Yorkers (I think they took a shine to Ise)
UPDATE – Ise just won $200 on roulette, so we're staying here another night – bliss! :o)
More soon, love Gude x